Hi guys! I saw the How I Choose My Books Tag on the lovely thebookishunderdog's blog and thought I would give it a go! Enjoy…
---
1. Find a book on your shelves or e-reader with a blue cover. What made you want to pick up this book?
Lorali by Laura Dockrill is a gorgeous blue book on my TBR shelf. I picked this book up in preparation for YALC (Young Adult Literature Convention) 2017 as Laura Dockrill was there and I wanted to get a copy signed by her. I first heard about it because of the hype on BookTube; I heard numerous people raving about how wonderfully written it was. I love young adult books and I love stories about mermaids so I had to pick this up and add it to my TBR pile. I am still yet to get to it though, I keep prioritising it and somehow still haven't read it yet! I definitely want to change that and have read it by the end of 2018.
2. Think of a book you didn't expect to enjoy, but did. Why did you read it in the first place?
I did not expect to enjoy Miss Peregrine's Home for Peculiar Children by Ransom Riggs as much as I did. It is classed as a young adult fantasy/paranormal read, genres I do not tend to read often. Because of this I did not have high hopes for the book, however I found I was pleasantly surprised. I loved the integration of old photographs into the story and how gripping it was from start to finish. I ended up reading the whole book (352 pages), in one sitting and gave it 4 stars. I actually picked up the book in the first place because again, I had seen it a lot on BookTube.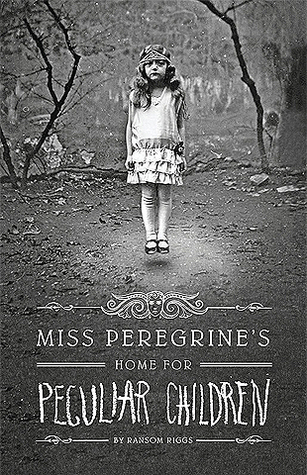 3. Stand in front of you bookshelf with your eyes closed and pick up a book at random. How did you discover this book?
Wing Jones by Katherine Webber. This is one of my all time favourite books, a solid 5 star read and I am so happy I read it. I discovered it because the author was attending YALC 2017. When I saw the list of authors that would be at YALC, I went a little bit crazy in Waterstones and bought at least one book by each author so I could get them signed. I found so many amazing books this way and it introduced me to some writers I had never heard of and some of their books are now my favourites of all time.
4. Pick a book that someone personally recommended to you. What did you think of it?
A bookseller recommended The Reader on the 6.27 by Jean-Paul Didierlaurent to me whilst I was browsing in a bookshop one afternoon. I usually read YA books, however she persuaded me to try something different and step out of my comfort zone; unfortunately it didn't pay off. The book is based around culture and romance but did nothing for me. I gave it 2 stars, will not recommend it to anybody and I was regrettably unimpressed. 
5. Pick a book that you discovered through Youtube/book blogs. Did it live up to its hype?
Fangirl by Rainbow Rowell. YES YES YES. I saw this book EVERYWHERE online and felt like the only person in the world who hadn't read it. When I finally picked it up I really couldn't put it down. The characters felt so realistic and I really saw myself in Cath; I love when I can relate to the main character as much as this. The romance was perfect and the pacing was flawless. I love, love love this book and could not recommend it more highly.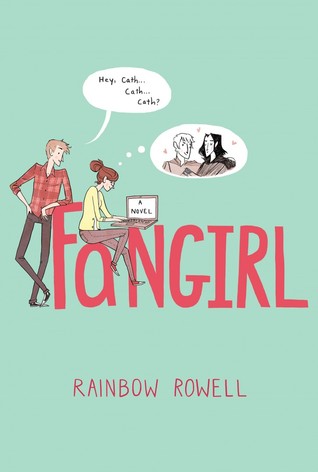 6. Find a book on your shelves or e-reader with a one word title. What drew you to this book?
One by Sarah Crossan. I was drawn to this book for two reasons, the first being the story is about twins and I adore books about sibling relationships, particularly twins. Secondly, the novel is written in verse and at the time, I had never read a book in that format and was therefore very excited to try something new. I ended up giving it 4 stars and really enjoying it. It was beautifully written and read like poetry, and because of the formatting you can fly through the book in such a short period of time.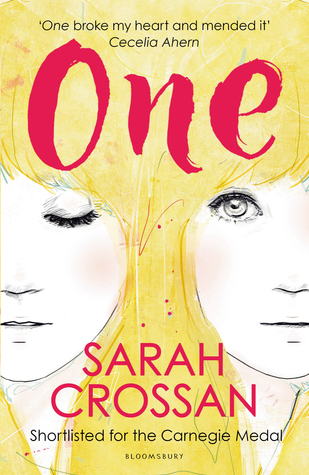 7. What book did you discover through a film/TV adaptation?
The Perks of Being a Wallflower by Stephen Chbosky. I remember watching the film at the cinema and being told it was based on a book only after it had finished. I instantly went out and bought the book and read it within that week. I didn't love the book as much as the film, which is really rare for me, I am usually a books over films girl!
8. Think of your all time favourite book/s. When did you read these and why did you pick them up in the first place.
I always struggle when a question asks about my favourite book because truthfully, I don't have just one. However, Harry Potter by J.K. Rowling is my favourite series and probably always will be. The books and the films have so much sentimental value in my life, they bring back so many wonderful feelings and emotions which I will never forget. Hermione Granger and Severus Snape will forever be two of my favourite fictional characters, they are incredible. I can't remember how old I was when I started to read the first Harry Potter book, but I know I was very young and I read it because my brother had and I wanted to be like him. As a child reading it for the first time I fell in love with the story, but not as much as I adore it now. I did not understand all the elements of the books and how they all link together when I was younger, but the magical excitement the books gave me as a kid will always stay with me.
---
Thank you so much for reading my post, and thank you to thebookishunderdog  for creating such a wonderful tag. I hope you all have a lovely week!