I'm really excited to finally answer the A-Z Survey Tag! The original creator was Jamie and I love the questions she has come up with!
---
Author you've read the most books from:
Jacqueline Wilson. I spent the majority of my childhood reading her books and  I continue to reread what she has written now I'm older. I have started to collect all of her published work, so I can always have them in physical copy whenever I want to return to them. Oh, and they look stunning in rainbow order on my shelf!
Best sequel ever:
Harry Potter and the Chamber of Secrets. I will never love a series as much as I love Harry Potter. The series just gets better and better and every time I reread it I am filled with so many happy feelings; I love watching the characters develop and the plot deepen.
Currently reading:
I am currently rereading The Hunger Games: Catching Fire. I am really enjoying it and only a few chapters through. It has been 3 years since I read the series last.
Drink of choice while reading:
Oh you can't beat a lovely cup of tea!
E-Reader or physical book?
100% physical books. I don't own a kindle or an e-reader as I don't like reading things off of a screen. I love the feeling (oh, and the smell) of books so will always choose a physical book over any other format.
Fictional character you probably would have actually dated in high school:
Probably Neville Longbottom. He's cute and dorky and just a little gem. How can you not adore him?
Glad you gave this book a chance:
Night Owls by Jenn Bennett. I borrowed this from my local library and almost didn't read it. The day before it was due back I decided to give it a go and couldn't put it down. I hadn't heard many people talking about it so I went into it quite blind and not knowing what to expect. It is now one of my all time favourite YA books and I would recommend it to everyone. The characters, the plot and the mental health representation are just so fantastic!
Hidden gem book:
Lying About Last Summer by Sue Wallman. I adored this book and gave it 5 stars. I read it in one sitting and it kept me guessing throughout.
Important moment in your reading life:
Starting this blog and my twitter (@karis_books) devoted to books. I have spoken to so many wonderful people online and found so many new amazing books through the online community.
Just finished:
The Hunger Games by Suzanne Collins. As predicted I read it in one sitting and gave it 5 stars.
Kinds of books you won't read:
I never really pick up sci-fi, I find the genre as a whole quite intimidating. I would really like to broaden my horizons and pick up a sci-fi book, however I just can't see this happening anytime soon…
Longest book you've read:
Harry Potter and the Order of the Phoenix by J.K. Rowling. However, it didn't feel like the longest book because it was so fast paced and gripping I got through it in a day. I always seem to race through the Harry Potter books so quickly, that I always surprise myself how many pages I have actually read!
Major book hangover because of:
Wing Jones by Katherine Webber. It was so wonderful that I still continue to think about the book on a regular basis. When I finished reading it I just sat in silence for a while taking it all in, it definitely made me feel all the emotions!
Number of bookcases you own:
3! One day I hope to own many more and to transform a room in my house into a library. Oh, the dream.
One book you've read multiple times:
Matilda by Roald Dahl. It makes me feel so warm and happy. I love being able to rely on a book to cheer me up, I know if I have had a rubbish day then reading Matilda will be able to lift my spirits and make me smile again. That's what I love about childhood favourite books, they will never lose their value.
Preferred place to read:
On the sofa wrapped up in a blanket nice and cosy! If it is warm outside then I love to read outdoors in the sun; this is probably why I tend to read so much more in summer.
Quote that inspires you from a book you've read:
My favourite quote ever from a book is:
'After all this time?' 'Always.' – J.K. Rowling, Harry Potter
The quote still makes me emotional now as Severus Snape will always be one of my favourite fictional characters. I will never love a quote as much as I do this one.
Reading regret:
Reading books because there was a lot of hype surrounding them even if I wasn't interested in them. I used to read books because I felt like I should or because everyone else was reading them, even if they were not to my taste. This wasted a lot of my reading time and made me fall into reading slumps because I was not reading what I wanted to read. I have definitely learnt my lesson and now only read what I truly think I will enjoy and what I want to read and when.
Series you started and need to finish:
The Spinster Club by Holly Bourne. I have read the first book in the series (Am I Normal Yet?) and absolutely loved how it dealt with OCD and I adored the feminism aspects. I don't know why I haven't continued with the series yet!
Three of your all time favourite books:
A Quiet Kind of Thunder – Sara Barnard
Fangirl – Rainbow Rowell
Wishbones – Virginia Macgregor
Unapologetic fangirl for:
Jacqueline Wilson. She was the author who began my reading journey and she will always hold a special place in my heart. All of her books, despite what age they were written for, fill me with so much joy and warmth. Candyfloss has always been my favourite of her books, with Cookie being a close second. I have begun to collect all of her published work so I always have them on my shelf throughout my life. I really hope the future generations still read her books in years to come!
Very excited for this release more than all the others:
I am really excited for the release of People Like Us by Dana Mele. It is released this month and is a young adult contemporary/mystery with a computer-coded scavenger hunt in it. It sounds super exciting and I can't wait to get my hands on it.
Worst bookish habit:
Being a cover buy reader! I am a sucker for a pretty cover and always seem to purchase them even if I am not 100% sure I will like the book. I end up reading them once, spending £6.99 on them and then never read them again. I definitely need to start using my library more before I spend so much money on books I may not love. Will I ever break this habit? Probably not…
X marks the spot: The 27th book on your shelf:
The Maze Runner by James Dashner. I still haven't read it, please forgive me!!
Your latest book purchase:
Stargazing for Beginners by Jenny McLachlan. I am really interested in astronomy and am therefore really excited about getting to this book.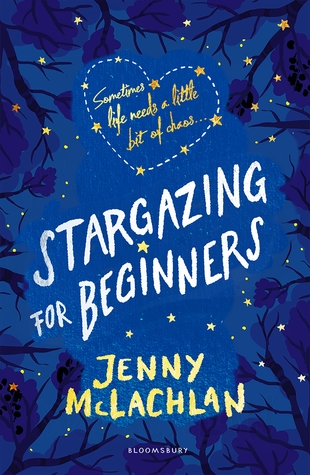 ZZZ-snatcher – the last book that kept you up way late:
Night Owls by Jenn Bennett. 5 stars, incredible YA story, nothing else needs to be said!
---
I hope you enjoyed this post! Love, Karis x