I've completed the TBR tag which I found really fun to do! It was created by Rachel and the questions are really great!
---
1. How do you keep track of your TBR pile?
I don't really keep track of it if I'm completely honest. Because I am constantly buying new books, unhauling books or rearranging my shelves, trying to keep track would just drive me crazy! I personally don't choose to write down or use goodreads to tell me how many books are on my TBR pile because I think the number would be so high and I would feel intimidated. If goodreads told me I still had 300 books on my shelves that I was yet to read, I would feel pretty defeated and would be likely to fall into a reading slump. I do write in a notebook the names of books I would like to buy and add to my collection when I see them on booktube or a blog, but obviously my list is pages long and I can't afford to buy them all!!
2. Is your TBR mostly physical or e-edition?
All the books I ever read are physical. I am not one to read off of a kindle or a laptop at all; I know they are so convenient for holidays and journeys, but it's just not my preferred way to read.
3. How do you determine which book on your TBR you read next?
I tend to read books just depending on my mood; sometimes I want a light-hearted, fluffy romance and other times I want something darker. I think this is the best way to decide what to read, as I have learnt from the past that if I try to force myself to read something I am likely to not enjoy it as much and be less inclined to read. I also take part in as many readathons as I can and these usually have themes/challenges surrounding them and therefore the books I read match the criteria set. Sometimes I ask my boyfriend to pick a book for me to read if I really have no idea what mood I am in, and will usually give it a go.
4. Which book has been on your TBR for the longest?
The whole Twilight series by Stephanie Meyer; I know it's shocking that I have made it through my teenage years without reading it. Vampire/werewolf books have never been my cup of tea, however as I have gotten older I do read fantasy a lot more, and I would love to give the series a go and see what I think. Maybe 2018 is the year I finally get around to it…
5. A book you recently added to your TBR
Seed by Lisa Heathfield. I read her novel Paper Butterflies last year and gave it 5 stars, and am so eager to see if this book can match that.
6. A book that's only on your TBR because it has a beautiful cover
Stargazing for Beginners by Jenny McLachlan was a complete cover buy for me. I love the different shades of blue and the white/yellow fonts on top. However, when I actually read the synopsis I thought it sounded fantastic so I hope the story is as beautiful as the cover.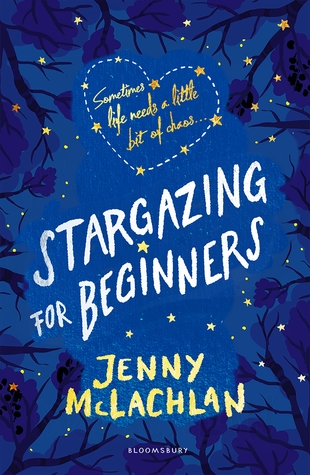 7. A book on your TBR that you never plan on reading
As much as it pains me to say, I don't think I will ever read any of the Game of Thrones books by George R.R. Martin. I asked for the complete set for my birthday, hoping it would give me the buzz to start reading it, but it really hasn't. Don't get me wrong, the series looks so gorgeous on my shelf, but series as a whole and high fantasy as a genre really aren't what I enjoy, so I think I will give it a miss.
8. An unpublished book on your TBR that you're excited for
I don't have any unpublished books on my TBR pile. I am very new to the blogging community so have not received any ARC's of books as of yet.
9. A book on your TBR that basically everyone has read apart from you
The Lunar Chronicles by Marissa Meyer. I really am interested in reading these books, but the size of the books (particularly Winter) intimidate me! I love fairytales and fairytale retellings so hopefully I will have read these soon.
10. A book on your TBR that everyone recommends to you
I have seen soooooo many online recommendations for the Throne of Glass series by Sarah J. Maas. Although fantasy is not the genre I reach for first, I really like the sound of this, particularly because there's a bad ass female protagnoist!
11. A book on your TBR that you're dying to read
Moth Girls by Anne Cassidy. This is described as a mystery/thriller young adult novel and these are some of my absolute favourite books to read. It is about two girls who disappear and five years later their friend begins to remember disturbing details. Ooo, I'm so excited!
12. How many books are on your TBR shelf on goodreads?
0. Don't worry, I haven't read all the books I own!! I just don't track them on goodreads as, like I said earlier, I find it too intimidating.
---
I really hope you enjoyed this tag! If you haven't completed it yourself, consider yourself tagged by me! Have a lovely rest of the week.