I'm not one to do strict TBR piles as I find them too intimidating. I'm a mood reader, I just pick up what I fancy when I fancy reading it, and so setting specific TBR lists would make me feel like I HAVE to read something. When this happens, I often end up in reading slumps as I don't feel like I'm reading for pleasure, I feel as if I am being forced to read specific things. With that being said, there are 5 books I would like to get to by the end of this year, I don't know when in the year, I just hope I pick them up before 2019!!
---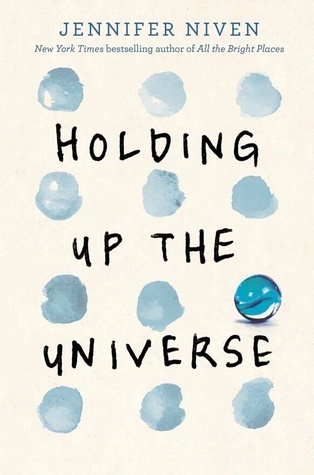 1. Holding Up The Universe by Jennifer Niven
Goodreads: "America's Fattest Teen." But no one's taken the time to look past her weight to get to know who she really is. Following her mom's death, she's been picking up the pieces in the privacy of her home, dealing with her heartbroken father and her own grief. Now, Libby's ready: for high school, for new friends, for love, and for every possibility life has to offer. Everyone thinks they know Jack Masselin, too. Yes, he's got swagger, but he's also mastered the impossible art of giving people what they want, of fitting in. What no one knows is that Jack has a newly acquired secret: he can't recognize faces. Even his own brothers are strangers to him. He's the guy who can re-engineer and rebuild anything, but he can't understand what's going on with the inner workings of his brain. So he tells himself to play it cool: Be charming. Be hilarious. Don't get too close to anyone. Until he meets Libby. When the two get tangled up in a cruel high school game—which lands them in group counseling and community service—Libby and Jack are both pissed, and then surprised. Because the more time they spend together, the less alone they feel. Because sometimes when you meet someone, it changes the world, theirs and yours. 
---
2. Eleanor and Park by Rainbow Rowell
Goodreads: Eleanor… Red hair, wrong clothes. Standing behind him until he turns his head. Lying beside him until he wakes up. Making everyone else seem drabber and flatter and never good enough. Park… He knows she'll love a song before he plays it for her. He laughs at her jokes before she ever gets to the punch line. There's a place on his chest, just below his throat, that makes her want to keep promises. Set over the course of one school year, this is the story of two star-crossed sixteen year olds—smart enough to know that first love almost never lasts, but brave and desperate enough to try.
---
3. Emmy and Oliver by Robin Benwway
Goodreads: Oliver's absence split us wide open, dividing our neighborhood along a fault line strong enough to cause an earthquake. An earthquake would have been better. At least during an earthquake, you understand why you're shaking. Emmy and Oliver were going to be best friends forever, or maybe even more, before their futures were ripped apart. But now Oliver is back, and he's not the skinny boy-next-door that used to be Emmy's best friend. Now he's the boy who got kidnapped. A stranger – a totally hot stranger! – with a whole history that Emmy knows nothing about. But is their story still meant to be? Or are they like the pieces of two different puzzles – impossible to fit together?
---
4. Severed Heads, Broken Hearts by Robyn Schneider 
Goodreads: Golden boy Ezra Faulkner believes everyone has a tragedy waiting for them—a single encounter after which everything that really matters will happen. His particular tragedy waited until he was primed to lose it all: In one spectacular night, a reckless driver shatters Ezra's knee, his career as a jock, and his social life. No longer a front-runner for homecoming king, Ezra finds himself at the table of misfits, where he encounters new girl Cassidy Thorpe. Cassidy is unlike anyone Ezra's ever met— achingly effortless, fiercely intelligent, and determined to bring Ezra along on her endless adventures. Together, Ezra and Cassidy discover flash mobs, buried treasure, secret movie screenings, and a poodle that might just be the reincarnation of Jay Gatsby. But as Ezra dives into his new studies, new friendships, and new love, he learns that some people, like books, are easy to misread. And now he must consider: If one's singular tragedy has already hit and everything after it has mattered quite a bit, what happens when more misfortune strikes?
---
5. The Hate U Give – Angie Thomas
Goodreads: Sixteen-year-old Starr Carter moves between two worlds: the poor neighborhood where she lives and the fancy suburban prep school she attends. The uneasy balance between these worlds is shattered when Starr witnesses the fatal shooting of her childhood best friend Khalil at the hands of a police officer. Khalil was unarmed. Soon afterward, his death is a national headline. Some are calling him a thug, maybe even a drug dealer and a gangbanger. Protesters are taking to the streets in Khalil's name. Some cops and the local drug lord try to intimidate Starr and her family. What everyone wants to know is: what really went down that night? And the only person alive who can answer that is Starr. But what Starr does or does not say could upend her community. It could also endanger her life.
---
These are the 5 books I really hope I read in 2018! Please let me know your opinions if you've read any of them, I would love to hear what you thought about them.