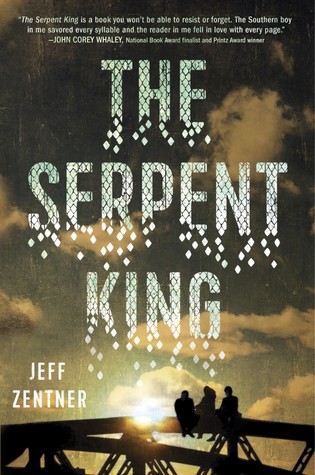 Book Title: The Serpent King
Author: Jeff Zentner
Pages: 384
Date Finished: 15th March 2018
Rating: *****
Goodreads: Dill has had to wrestle with vipers his whole life—at home, as the only son of a Pentecostal minister who urges him to handle poisonous rattlesnakes, and at school, where he faces down bullies who target him for his father's extreme faith and very public fall from grace. The only antidote to all this venom is his friendship with fellow outcasts Travis and Lydia. But as they are starting their senior year, Dill feels the coils of his future tightening around him. The end of high school will lead to new beginnings for Lydia, whose edgy fashion blog is her ticket out of their rural Tennessee town. And Travis is happy wherever he is thanks to his obsession with the epic book series Bloodfall and the fangirl who may be turning his harsh reality into real-life fantasy. Dill's only escapes are his music and his secret feelings for Lydia—neither of which he is brave enough to share. Graduation feels more like an ending to Dill than a beginning. But even before then, he must cope with another ending—one that will rock his life to the core.
---
I just want to start off by saying I thought this book was PERFECT, and it's rare I will ever describe a book using that word. I think I am quite harsh with my ratings, and therefore rarely give out 5 stars, but this book deserved it and more! I loved everything about it, from the characters to the plot, ahhhh I just want everyone to read it!
The pacing of the book was fantastic. You are given everything at the right time, it's not too slow and boring, yet not too fast that it feels rushed. Each segment of the book is exciting and drew me in, it didn't feel as if it had nearly 400 pages.
I loved all of the main characters. All three of the friends are so different, and it's rare I connect with all of the main characters in a story. I found Lydia very interesting, her wit was very commical and I loved the lead she took in the story. She was quite bossy but I actually really liked that about her. I really liked that she had her own blog, and it was clear to see how important it was to her and how much of her life she dedicated to producing content for it. I found that really refreshing as blogging and internet fame isn't something I have read much of in YA fiction.
I found Dill so unique and interesting. What I really liked about him was how he tried to stand up for what he believed in; his family were very religious but he didn't want to follow the same path as them. It's rare to read a YA book with faith playing an important role, the only other book I have read was The Names They Gave Us by Emery Lord, which was also fantastic. I find faith a very interesting topic to read about, and love it when it plays out successfully.
I fell in love with Travis, he was so wonderful and sweet and I just found myself wanting to hug him throughout the book. I love how addicted he was to reading Bloodfall, the book series he was obsessed with, as this is relatable for a bookworm like myself.
What I loved so much about all of the characters was their flaws and personal issues. They each had their own battles to face, but it was their friendship which kept them strong. I also have to mention Lydia's father, he was amazing. He was so kind and supportive, not only to his daughter, but to Dill and Travis too. I adore reading about loving, present parents in YA, and Dr Blankenship was definitely my favourite parent in YA ever.
Overall, I loved this book (if you haven't gathered already). I picked it up from the library and went into it pretty blind, not knowing what to expect, and I was so pleasantly surprised. I would urge everyone who is a fan of contemporary YA books to pick this up, you won't regret it!
---
I hope you enjoyed this post! If you have read The Serpent King, please let me know, I would love to know what your opinions were. Karis x