I've decided to start a mini blog series over the next 7 days. Each day I'm going to share 30 YA recommendations. Instead of grouping the books into their plots/genres/themes, I'm going to simply do it on the colour of the cover. I love my rainbow shelves and thought this would be a nice, different way to share some YA books with you all! Today's theme is RED. I hope you enjoy these posts!
---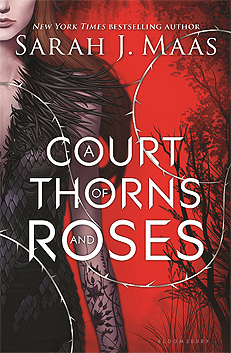 1. A Court of Thorns and Roses by Sarah J. Maas
Feyre's survival rests upon her ability to hunt and kill – the forest where she lives is a cold, bleak place in the long winter months. So when she spots a deer in the forest being pursued by a wolf, she cannot resist fighting it for the flesh. But to do so, she must kill the predator and killing something so precious comes at a price. Dragged to a magical kingdom for the murder of a faerie, Feyre discovers that her captor, his face obscured by a jewelled mask, is hiding far more than his piercing green eyes would suggest. Feyre's presence at the court is closely guarded, and as she begins to learn why, her feelings for him turn from hostility to passion and the faerie lands become an even more dangerous place. Feyre must fight to break an ancient curse, or she will lose him forever.
---
2. Red Rising by Pierce Brown
Darrow is a Red, a member of the lowest caste in the color-coded society of the future. Like his fellow Reds, he works all day, believing that he and his people are making the surface of Mars livable for future generations. Yet he spends his life willingly, knowing that his blood and sweat will one day result in a better world for his children. But Darrow and his kind have been betrayed. Soon he discovers that humanity already reached the surface generations ago. Vast cities and sprawling parks spread across the planet. Darrow—and Reds like him—are nothing more than slaves to a decadent ruling class. Inspired by a longing for justice, and driven by the memory of lost love, Darrow sacrifices everything to infiltrate the legendary Institute, a proving ground for the dominant Gold caste, where the next generation of humanity's overlords struggle for power. He will be forced to compete for his life and the very future of civilization against the best and most brutal of Society's ruling class. There, he will stop at nothing to bring down his enemies… even if it means he has to become one of them to do so.
---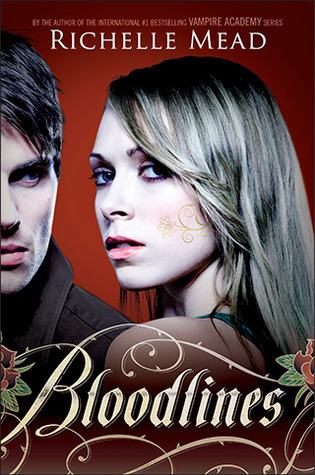 3. Bloodlines by Richelle Meed
I wasn't free of my past, not yet. Sydney's blood is special. That's because she's an alchemist – one of a group of humans who dabble in magic and serve to bridge the worlds of humans and vampires. They protect vampire secrets – and human lives. But the last encounter Sydney had with vampires got her in deep trouble with the other alchemists. And now with her allegiences in question, her future is on the line. When Sydney is torn from her bed in the middle of the night, at first she thinks she's still being punished for her complicated alliance with dhampir Rose Hathaway. But what unfolds is far worse. Jill Dragomir – the sister of Moroi Queen Lissa Dragomir – is in mortal danger, and the Moroi must send her into hiding. To avoid a civil war, Sydney is called upon to act as Jill's guardian and protector, posing as her roommate in the unlikeliest of places: a human boarding school in Palm Springs, California. The last thing Sydney wants is to be accused of sympathizing with vampires. And now she has to live with one. The Moroi court believe Jill and Sydney will be safe at Amberwood Prep, but threats, distractions, and forbidden romance lurk both outside – and within – the school grounds. Now that they're in hiding, the drama is only just beginning.
---
4. Simon vs. The Homo Sapiens Agenda by Becky Albertalli
Sixteen-year-old and not-so-openly gay Simon Spier prefers to save his drama for the school musical. But when an email falls into the wrong hands, his secret is at risk of being thrust into the spotlight. Now Simon is actually being blackmailed: if he doesn't play wingman for class clown Martin, his sexual identity will become everyone's business. Worse, the privacy of Blue, the pen name of the boy he's been emailing, will be compromised. With some messy dynamics emerging in his once tight-knit group of friends, and his email correspondence with Blue growing more flirtatious every day, Simon's junior year has suddenly gotten all kinds of complicated. Now, change-averse Simon has to find a way to step out of his comfort zone before he's pushed out—without alienating his friends, compromising himself, or fumbling a shot at happiness with the most confusing, adorable guy he's never met.
---
5. Heartless by Marissa Myer
Catherine may be one of the most desired girls in Wonderland, and a favorite of the unmarried King of Hearts, but her interests lie elsewhere. A talented baker, all she wants is to open a shop with her best friend. But according to her mother, such a goal is unthinkable for the young woman who could be the next queen. Then Cath meets Jest, the handsome and mysterious court joker. For the first time, she feels the pull of true attraction. At the risk of offending the king and infuriating her parents, she and Jest enter into an intense, secret courtship. Cath is determined to define her own destiny and fall in love on her terms. But in a land thriving with magic, madness, and monsters, fate has other plans.
---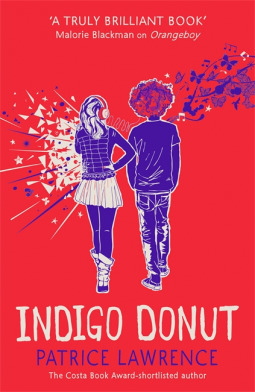 6. Indigo Donut by Patrice Lawrence
A story of longing, belonging and trust. Two very different young people discover who loves them, and who they can love back. Bailey is 17, mixed race, lives with his mum and dad in Hackney and spends all his time playing guitar or tending to his luscious ginger afro. Indigo is 17 and new to London, having grown up in the care system after being found by her mum's dead body as a toddler. All Indigo wants is to know who she really is. When Bailey and Indigo meet at sixth form, sparks fly. But when Bailey becomes the target of a homeless man who seems to know more about Indigo than is normal, Bailey is forced to make a choice he should never have to make.
---
7. Ketchup Clouds by Annabel Pitcher
Secrets, romance, murder and lies: Zoe shares a terrible secret in a letter to a stranger on death row in this second novel from the author of the bestselling debut, My Sister Lives on the Mantelpiece. Fifteen-year-old Zoe has a secret—a dark and terrible secret that she can't confess to anyone she knows. But then one day she hears of a criminal, Stuart Harris, locked up on death row in Texas. Like Zoe, Stuart is no stranger to secrets. Or lies. Or murder. Full of heartache yet humour, Zoe tells her story in the only way she can—in letters to the man in prison in America. Armed with a pen, Zoe takes a deep breath, eats a jam sandwich, and begins her tale of love and betrayal.
---
8. An Abundance of Katherines by John Green
Katherine V thought boys were gross
Katherine X just wanted to be friends
Katherine XVIII dumped him in an e-mail
K-19 broke his heart
When it comes to relationships, Colin Singleton's type happens to be girls named Katherine. And when it comes to girls named Katherine, Colin is always getting dumped. Nineteen times, to be exact. On a road trip miles from home, this anagram-happy, washed-up child prodigy has ten thousand dollars in his pocket, a bloodthirsty feral hog on his trail, and an overweight, Judge Judy-loving best friend riding shotgun–but no Katherines. Colin is on a mission to prove The Theorem of Underlying Katherine Predictability, which he hopes will predict the future of any relationship, avenge Dumpees everywhere, and finally win him the girl. Love, friendship, and a dead Austro-Hungarian archduke add up to surprising and heart-changing conclusions in this ingeniously layered comic novel about reinventing oneself.
---
9. Wolf by Wolf by Ryan Graudin
Her story begins on a train. The year is 1956, and the Axis powers of the Third Reich and Imperial Japan rule. To commemorate their Great Victory, Hitler and Emperor Hirohito host the Axis Tour: an annual motorcycle race across their conjoined continents. The victor is awarded an audience with the highly reclusive Adolf Hitler at the Victor's Ball in Tokyo. Yael, a former death camp prisoner, has witnessed too much suffering, and the five wolves tattooed on her arm are a constant reminder of the loved ones she lost. The resistance has given Yael one goal: Win the race and kill Hitler. A survivor of painful human experimentation, Yael has the power to skinshift and must complete her mission by impersonating last year's only female racer, Adele Wolfe. This deception becomes more difficult when Felix, Adele twin's brother, and Luka, her former love interest, enter the race and watch Yael's every move. But as Yael grows closer to the other competitors, can she bring herself to be as ruthless as she needs to be to avoid discovery and complete her mission?
---
10. The Wildings by Nilanjana Roy
A small band of cats lives in the labyrinthine alleys and ruins of Nizamuddin, an old neighbourhood in Delhi. Miao, the clan elder, a wise, grave Siamese; Katar, a cat loved by his followers and feared by his enemies; Hulo, the great warrior tom; Beraal, the beautiful queen, swift and deadly when challenged; Southpaw, the kitten whose curiosity can always be counted on to get him into trouble… Unfettered and wild, these and the other members of the tribe fear no one, go where they will, and do as they please. Until, one day, a terrified orange-coloured kitten with monsoon green eyes and remarkable powers, lands in their midst—setting off a series of extraordinary events that will change their world forever. 
---
11. Ghost Boys by Jewell Parker Rhodes
Twelve-year-old Jerome is shot by a police officer who mistakes his toy gun for a real threat. As a ghost, he observes the devastation that's been unleashed on his family and community in the wake of what they see as an unjust and brutal killing. Soon Jerome meets another ghost: Emmett Till, a boy from a very different time but similar circumstances. Emmett helps Jerome process what has happened, on a journey towards recognizing how historical racism may have led to the events that ended his life. Jerome also meets Sarah, the daughter of the police officer, who grapples with her father's actions. Once again Jewell Parker Rhodes deftly weaves historical and socio-political layers into a gripping and poignant story about how children and families face the complexities of today's world, and how one boy grows to understand American blackness in the aftermath of his own death.
---
12. Boy2Girl by Terence Blacker
Matthew's American cousin, Sam, has come to London to live with the family. Sam is a charismatic, funny kid, but can he be trusted to be a reliable friend? Matthew and his "mates" decide that Sam must undertake a challenge in order to prove himself: he must start off his new year at their school posing as a girl. It turns out that Sam makes a great girl. He fools everyone and has an electrifying effect at Bradbury Hill School. And the longer the prank goes on, the more hilarious — and serious — the repercussions.
---
13. Out of The Depths by Cathy MacPhail
In Out of The Depths, Cathy MacPhail introduces her latest character, Tyler Lawless, who has an unusual and sometimes scary gift. She is able to see dead people. And sometimes they speak to her, asking for her help. When Tyler moves to a new school she is hoping to make a fresh start. But that isn't easy when a boy who is supposed to be dead appears in your classroom, and statues in the school seem to come alive and point towards the place where the dead boy, Ben Kincaid, was murdered. Will Tyler be able to assist Ben with his pleas for help, or will she be dismissed as an attention-seeking teller of tall tales?
---
14. Spellslinger by Sebastien De Castell
Magic is a con game.  Kellen is moments away from facing his first mage's duel and the start of four trials that will make him a spellcaster. There's just one problem: his magic is gone. As his sixteenth birthday approaches, Kellen falls back on his cunning in a bid to avoid total disgrace. But when a daring stranger arrives in town, she challenges Kellen to take a different path. Ferius Parfax is one of the mysterious Argosi – a traveller who lives by her wits and the three decks of cards she carries. She's difficult and unpredictable, but she may be Kellen's only hope…
---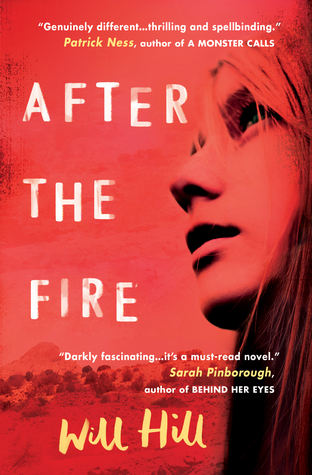 15. After The Fire by Will Hill
The things I've seen are burned into me, like scars that refuse to fade. Father John controls everything inside The Fence. And Father John likes rules. Especially about never talking to Outsiders. Because Father John knows the truth. He knows what is right, and what is wrong. He knows what is coming. Moonbeam is starting to doubt, though. She's starting to see the lies behind Father John's words. She wants him to be found out. What if the only way out of the darkness is to light a fire?
---
16. Heroes by Robert Cormier
Francis Joseph Cassavant is 18. He's just returned home from the Second World War, and he has no face. He has a gun and a mission: to murder his childhood hero. Francis lost most of his face when he fell on a grenade in France. He received the Silver Star for bravery, but was it really an act of heroism? Now, having survived, he's looking for a man he once admired, a man adored by many people, a man who also received a Silver Star for bravery. A man who destroyed Francis's life.
---
17. Eliza Rose by Lucy Worsley
Eliza Rose Camperdowne is young and headstrong, but she knows her duty well. As the only daughter of a noble family, she must one day marry a man who is very grand and very rich. But Fate has other plans. When Eliza becomes a maid of honour, she's drawn into the thrilling, treacherous court of Henry the Eighth… Is her glamorous cousin Katherine Howard a friend or a rival? And can a girl choose her own destiny in a world ruled by men?
---
18. The Hit by Melvin Burgess
Take it. Live it. F*** it. A new drug is out. Everyone is talking about it. The Hit. Take it, and you have one amazing week to live. It's the ultimate high. At the ultimate price. Adam is tempted. Life is rubbish, his girlfriend's over him, his brother's gone. So what's he got to lose? Everything, as it turns out. It's up to his girlfriend, Lizzie, to show him…
---
19. Thirteen Chairs by Dave Shelton
In an abandoned house, the ghosts gather. They argue, they laugh, and they tell their stories. Some tell their own stories, some tell stories they have heard elsewhere. Some of them are true, some are not. But each tale draws you closer. One by one, the storytellers depart, until suddenly it's just you and the narrator, alone in the dark…
---
20. Sky Key by James Frey
Endgame is here. Earth Key has been found. Two keys—and nine Players—remain. The keys must be found, and only one Player can win. Queens, New York. Aisling Kopp believes the unthinkable: that Endgame can be stopped. But before she can get home to regroup, she is approached by the CIA. They know about Endgame. And they have their own ideas about how it should be Played. Ideas that could change everything. Kingdom of Aksum, Ethiopia. Hilal ibn Isa al-Salt narrowly survived an attack that leaves him horribly disfigured. He now knows something the other Players do not. But the Aksumites have a secret that is unique to their line. A secret that can help redeem humanity—and maybe even be used to help defeat the beings behind Endgame. London, England. Sarah Alopay has found the first key. She is with Jago—and they are winning.But getting Earth Key has come at a great cost to Sarah. The only thing that keeps the demons at bay is Playing. Playing to win.
---
21. Heart Shaped Bruise by Tanya Byrne
They say I'm evil. The police. The newspapers. The girls from school who shake their heads on the six o'clock news and say they always knew there was something not quite right about me. And everyone believes it. Including you. But you don't know. You don't know who I used to be. Who I could have been. Awaiting trial at Archway Young Offenders Institution, Emily Koll is going to tell her side of the story for the first time. 
---
22. Following Ophelia by Sophia Bennett
When Mary Adams sees Millais' depiction of the tragic Ophelia, a whole new world opens up for her. Determined to find out more about the beautiful girl in the painting, she hears the story of Lizzie Siddal – a girl from a modest background, not unlike her own, who has found fame and fortune against the odds. Mary sets out to become a Pre-Raphaelite muse, too, and reinvents herself as Persephone Lavelle. But as she fights her way to become the new face of London's glittering art scene, 'Persephone' ends up mingling with some of the city's more nefarious types and is forced to make some impossible choices. Will Persephone be forced to betray those she loves, and even the person she once was, if she is to achieve her dreams?
---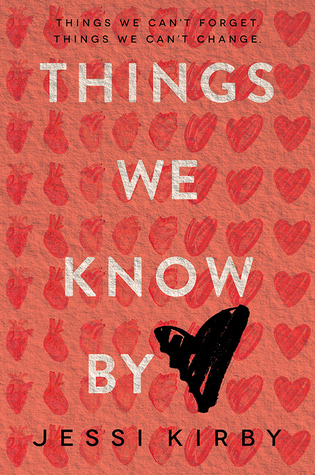 23. Things We Know By Heart by Jessi Kirby
When Quinn Sullivan meets the recipient of her boyfriend's donated heart, the two form an unexpected connection. After Quinn loses her boyfriend, Trent, in an accident their junior year, she reaches out to the recipients of his donated organs in hopes of picking up the pieces of her now-unrecognizable life. She hears back from some of them, but the person who received Trent's heart has remained silent. The essence of a person, she has always believed, is in the heart. If she finds Trent's, then maybe she can have peace once and for all. Risking everything in order to finally lay her memories to rest, Quinn goes outside the system to track down nineteen-year-old Colton Thomas—a guy whose life has been forever changed by this priceless gift. But what starts as an accidental run-in quickly develops into more, sparking an undeniable attraction. She doesn't want to give in to it—especially since he has no idea how they're connected—but their time together has made Quinn feel alive again. No matter how hard she's falling for Colton, each beat of his heart reminds her of all she's lost…and all that remains at stake.
---
24. Half brother by Kenneth Oppel
For thirteen years, Ben Tomlin was an only child. But all that changes when his mother brings home Zan — an eight-day-old chimpanzee. Ben's father, a renowned behavioral scientist, has uprooted the family to pursue his latest research project: a high-profile experiment to determine whether chimpanzees can acquire advanced language skills. Ben's parents tell him to treat Zan like a little brother. Ben reluctantly agrees. At least now he's not the only one his father's going to scrutinize. It isn't long before Ben is Zan's favorite, and Ben starts to see Zan as more than just an experiment. His father disagrees. Soon Ben is forced to make a critical choice between what he is told to believe and what he knows to be true — between obeying his father or protecting his brother from an unimaginable fate. Half Brother isn't just a story about a boy and a chimp. It's about the way families are made, the way humanity is judged, the way easy choices become hard ones, and how you can't always do right by the people and animals you love. In the hands of master storyteller Kenneth Oppel, it's a novel you won't soon forget.
---
25. The Taste of Blue Light by Lydia Ruffles
An incandescent, soul-searching story about a broken young woman's search for a truth buried so deep it threatens to consume her, body and mind. 'Since I blacked out, the slightest thing seems to aggravate my brain and fill it with fire'
These are the things Lux knows:
She is an Artist. 
She is lucky. 
She is broken.
These are the things she doesn't know:
What happened over the summer.
Why she ended up in hospital.
Why her memories are etched in red.
'The nightmares tend to linger long after your screams have woken you up …' Desperate to uncover the truth, Lux's time is running out. If she cannot piece together the events of the summer and regain control of her fractured mind, she will be taken away from everything and everyone she holds dear. If her dreams don't swallow her first.
---
26. The Stuff of Nightmares by Malorie Blackman
Kyle has always been afraid of things, especially dying. Whilst on a train on a school trip, Kyle realises that he isn't the only one who has buried fears and, more importantly, he now burns with the desire to live, and to live without fear. But will Death release him?
---
27. Ruby Red by Kerstein Gier
Gwyneth Shepherd's sophisticated, beautiful cousin Charlotte has been prepared her entire life for traveling through time. But unexpectedly, it is Gwyneth, who in the middle of class takes a sudden spin to a different era. Gwyneth must now unearth the mystery of why her mother would lie about her birth date to ward off suspicion about her ability, brush up on her history, and work with Gideon–the time traveler from a similarly gifted family that passes the gene through its male line, and whose presence becomes, in time, less insufferable and more essential. Together, Gwyneth and Gideon journey through time to discover who, in the 18th century and in contemporary London, they can trust.
---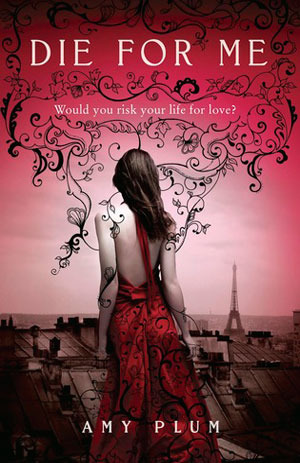 28. Die For Me by Amy Plum
In the City of Lights, two star-crossed lovers battle a fate that is destined to tear them apart again and again for eternity. When Kate Mercier's parents die in a tragic car accident, she leaves her life–and memories–behind to live with her grandparents in Paris. For Kate, the only way to survive her pain is escaping into the world of books and Parisian art. Until she meets Vincent. Mysterious, charming, and devastatingly handsome, Vincent threatens to melt the ice around Kate's guarded heart with just his smile. As she begins to fall in love with Vincent, Kate discovers that he's a revenant–an undead being whose fate forces him to sacrifice himself over and over again to save the lives of others. Vincent and those like him are bound in a centuries-old war against a group of evil revenants who exist only to murder and betray. Kate soon realizes that if she follows her heart, she may never be safe again.
---
29. Crash Into You by Katie McGarry
The girl with straight A's and the perfect life—that's who people expect Rachel Young to be. So the private school junior keeps secrets from her wealthy family…and she's just added two more to the list. One involves racing strangers down dark country roads in her Mustang GT. The other? Seventeen-year-old Isaiah Walker—a guy she has no business even talking to. But after the foster kid with the tattoos and intense gray eyes comes to her rescue, she can't get him out of her mind. The last thing Isaiah needs is to get tangled up with a rich girl who wants to slum it on the south side for kicks. But when their shared love of street racing puts their lives in jeopardy, Isaiah and Rachel will have six weeks to come up with a way out. Six weeks to discover just how far they'll go to save each other.
---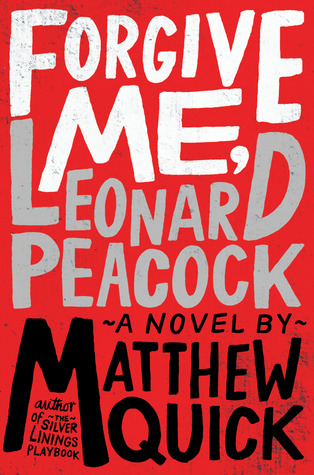 30. Forgive Me, Leonard Peacock by Matthew Quick
Today is Leonard Peacock's birthday. It is also the day he hides a gun in his backpack. Because today is the day he will kill his former best friend, and then himself, with his grandfather's P-38 pistol. But first he must say good-bye to the four people who matter most to him: his Humphrey Bogart-obsessed next-door neighbor, Walt; his classmate, Baback, a violin virtuoso; Lauren, the Christian homeschooler he has a crush on; and Herr Silverman, who teaches the high school's class on the Holocaust. Speaking to each in turn, Leonard slowly reveals his secrets as the hours tick by and the moment of truth approaches.
---
I hope this list of red books was helpful! I'll be back again tomorrow, brining you a list of orange YA book recommedations! Love, Karis x