I've decided to start a mini blog series over the next 7 days. I have already posted my RED and ORANGE book recommendations, today it's time for a list of 30 wonderful YELLOW books! I hope you enjoy…
---
1. It Only Happens In The Movies by Holly Bourne
Audrey is over romance. Since her parents' relationship imploded her mother's been catatonic, so she takes a cinema job to get out of the house. But there she meets wannabe film-maker Harry. Nobody expects Audrey and Harry to fall in love as hard and fast as they do. But that doesn't mean things are easy. Because real love isn't like the movies… .The greatest love story ever told doesn't feature kissing in the snow or racing to airports. It features pain and confusion and hope and wonder and a ban on cheesy clichés. Oh, and zombies… YA star Holly Bourne tackles real love in this hugely funny and poignant novel.
---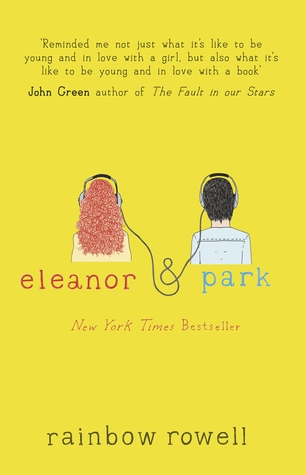 2. Eleanor and Park by Rainbow Rowell
Two misfits.
One extraordinary love.
Eleanor… Red hair, wrong clothes. Standing behind him until he turns his head. Lying beside him until he wakes up. Making everyone else seem drabber and flatter and never good enough…Eleanor. Park… He knows she'll love a song before he plays it for her. He laughs at her jokes before she ever gets to the punch line. There's a place on his chest, just below his throat, that makes her want to keep promises… Park. Set over the course of one school year, this is the story of two star-crossed sixteen-year-olds—smart enough to know that first love almost never lasts, but brave and desperate enough to try.
---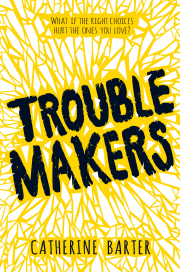 3. Troublemakers by Catherine Barter
Fifteen-year-old Alena never really knew her political activist mother, who died when she was a baby. She has grown up with her older half-brother Danny and his boyfriend Nick in the east end of London. Now the area is threatened by a bomber who has been leaving explosive devices in supermarkets. It is only a matter of time before a bomb goes off. Against this increasingly fearful backdrop, Alena seeks to discover more about her past, while Danny takes a job working for a controversial politician. As her family life implodes, and the threat to Londoners mounts, Alena starts getting into trouble. Then she does something truly rebellious.
---
4. I'll Give You The Sun by Jandy Nelson
At first, Jude and her twin brother Noah, are inseparable. Noah draws constantly and is falling in love with the charismatic boy next door, while daredevil Jude wears red-red lipstick, cliff-dives, and does all the talking for both of them. Years later, they are barely speaking. Something has happened to change the twins in different yet equally devastating ways . . . but then Jude meets an intriguing, irresistible boy and a mysterious new mentor. The early years are Noah's to tell; the later years are Jude's. But they each have only half the story, and if they can only find their way back to one another, they'll have a chance to remake their world. 
---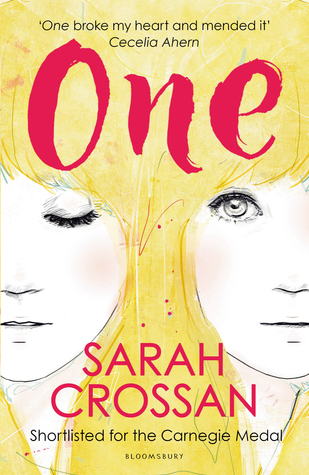 5. One by Sarah Crossan
Grace and Tippi. Tippi and Grace. Two sisters. Two hearts. Two dreams. Two lives. But one body. Grace and Tippi are conjoined twins, joined at the waist, defying the odds of survival for sixteen years. They share everything, and they are everything to each other. They would never imagine being apart. For them, that would be the real tragedy. But something is happening to them. Something they hoped would never happen. And Grace doesn't want to admit it. Not even to Tippi. How long can they hide from the truth—how long before they must face the most impossible choice of their lives?
---
6. It's Kind of A Funny Story by Ned Vizzini
Ambitious New York City teenager Craig Gilner is determined to succeed at life – which means getting into the right high school to get into the right job. But once Craig aces his way into Manhattan's Executive Pre-Professional High School, the pressure becomes unbearable. He stops eating and sleeping until, one night, he nearly kills himself. Craig's suicidal episode gets him checked into a mental hospital, where his new neighbors include a transsexual sex addict, a girl who has scarred her own face with scissors, and the self-elected President Armelio. There, Craig is finally able to confront the sources of his anxiety.
---
7. Before I Die by Jenny Downham
The story of Tessa, a young teenage girl who has only months to live … a brilliantly crafted novel, heartbreaking yet life-affirming. Tessa has just months to live. Fighting back against hospital visits, endless tests, drugs with excruciating side-effects, Tessa compiles a list. It's her To Do Before I Die list. And number one is Sex. Released from the constraints of 'normal' life, Tessa tastes new experiences to make her feel alive while her failing body struggles to keep up. Tessa's feelings, her relationships with her father and brother, her estranged mother, her best friend, and her new boyfriend, all are painfully crystallised in the precious weeks before Tessa's time finally runs out.
---
8. The Truth About Alice by Jennifer Mathieu
Rumour has it that Alice Franklin is a slut. It's written all over the 'slut stall' in the girls' bathroom at Healy High for everyone to see. And after star quarterback Brandon Fitzsimmons dies in a car accident, the rumours start to spiral out of control. In this remarkable novel, four Healy High students – the party girl, the car accident survivor, the ex best friend and the boy next door – tell all they know. But exactly what is the truth about Alice? In the end there's only one person to ask: Alice herself.
---
9. Finding Audrey by Sophie Kinsella
Audrey can't leave the house. she can't even take off her dark glasses inside the house. Then her brother's friend Linus stumbles into her life. With his friendly, orange-slice smile and his funny notes, he starts to entice Audrey out again – well, Starbucks is a start. And with Linus at her side, Audrey feels like she can do the things she'd thought were too scary. Suddenly, finding her way back to the real world seems achievable.
---
10. Butter by Erin Jade Lange
A lonely obese boy everyone calls "Butter" is about to make history. He is going to eat himself to death-live on the Internet-and everyone is invited to watch. When he first makes the announcement online to his classmates, Butter expects pity, insults, and possibly sheer indifference. What he gets are morbid cheerleaders rallying around his deadly plan. Yet as their dark encouragement grows, it begins to feel a lot like popularity. And that feels good. But what happens when Butter reaches his suicide deadline? Can he live with the fallout if he doesn't go through with his plans?
---
11. If You Find Me by Emily Murdoch
Carey is keeping a terrible secret. If she tells, it could destroy her future. If she doesn't, will she ever be free? For almost as long as she can remember, Carey has lived in a camper van in the heart of the woods with her drug-addicted mother and six-year-old sister, Jenessa. Her mother routinely disappears for weeks at a time, leaving the girls to cope alone. Survival is Carey's only priority – until strangers arrive and everything changes.
---
12. Apple and Rain by Sarah Crossan
When Apple's mother returns after eleven years away, Apple feels whole again. But just like the stormy Christmas Eve when she left, her mother's homecoming is bittersweet. It's only when Apple meets someone more lost than she is that she begins to see things as they really are.
---
13. Lies We Tell Ourselves by Robin Talley
In 1959 Virginia, the lives of two girls on opposite sides of the battle for civil rights will be changed forever. Sarah Dunbar is one of the first black students to attend the previously all-white Jefferson High School. An honors student at her old school, she is put into remedial classes, spit on and tormented daily. Linda Hairston is the daughter of one of the town's most vocal opponents of school integration. She has been taught all her life that the races should be kept separate but equal. Forced to work together on a school project, Sarah and Linda must confront harsh truths about race, power and how they really feel about one another.
---
14. Laurinda by Alice Pung
Laurinda is an exclusive school for girls. At its hidden centre of power is The Cabinet, a triangle of girls who wield power over their classmates – and some of their teachers. Entering this world of wealth and secrets is Lucy Lam, a scholarship girl with sharp eyes and a shaky sense of self. As she watches The Cabinet in action, and is courted by them – as she learns about power and repression – Lucy finds herself in a battle for her identity and integrity.
---
15. Wonderful Feels Like This by Sara Lovestram
For Steffi, going to school every day is an exercise in survival. She's never fit in with any of the other groups at school, and she's viciously teased by the other girls in her class. The only way she can escape is through her music—especially jazz music.  When Steffi hears her favorite jazz song playing through an open window of a retirement home on her walk home from school, she decides to go in and introduce herself. The old man playing her favorite song is Alvar. When Alvar was a teenager in World War II-era Sweden, he dreamt of being in a real jazz band. Then and now, Alvar's escape is music—especially jazz music. Through their unconventional but powerful friendship, Steffi realizes that she won't always be lonely in her small town. She can go to a music school in the big city. She can be a realmusician. And she can be a jitterbug, just like Alvar. But how can Steffi convince her parents to let her go to Stockholm to audition? And how is it that Steffi's school, the retirement home, her music, and even her worst bully are somehow connected to Alvar and his story? Can it be that the people least like us are the ones we need to help us tell our own stories?
---
16. Stargirl by Jerry Spinelli
She's as magical as the desert sky. As mysterious as her own name. Nobody knows who she is or where she's from. But everyone loves her for being different. And she captures Leo's heart with just one smile. STARGIRL is a classic of our time that celebrates being true to ourselves and the thrill of first love. A life-changing read that touches souls of all ages.
---
17. Mirror, Mirror by Cara Delevigne
Sixteen-year-old friends Red, Leo, Rose, and Naomi are misfits; still figuring out who they are and who they want to be. Life isn't perfect, but music brings them together, and they are excited about what the future holds for their band, Mirror, Mirror. That is until Naomi vanishes before being pulled unconscious out of the river. She's left fighting for her life in a coma. The police claim it was a failed suicide attempt, but her friends aren't convinced. Will Naomi ever wake up? What – or perhaps who – led her to that hospital bed? And how did Red, the self-styled protector of the group, fail to spot the warning signs? While Rose turns to wild partying and Leo is shrouded by black moods, Red sets out to uncover the truth. It's a journey that will cause Red's world to crack, exposing the group's darkest secrets. Nothing will ever be the same again, because once a mirror is shattered, it can't be fixed.
---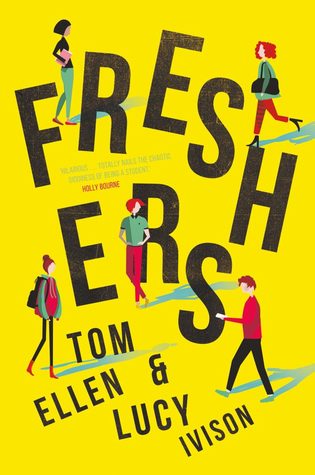 18. Freshers by Tom Ellen and Lucy Ivison
Another laugh-out-loud dual narrative, Freshers is a YA novel following two protagonists through that tumultuous first year of university. Starring new characters – but featuring some familiar faces from Lobsters – Freshers is a contemporary, authentic story packed full of love, sex and friendship.
---
19. Boy Meets Boy by David Levithan
This is the story of Paul, a sophomore at a high school like no other: The cheerleaders ride Harleys, the homecoming queen used to be a guy named Daryl (she now prefers Infinite Darlene and is also the star quarterback), and the gay-straight alliance was formed to help the straight kids learn how to dance. When Paul meets Noah, he thinks he's found the one his heart is made for. Until he blows it. The school bookie says the odds are 12-to-1 against him getting Noah back, but Paul's not giving up without playing his love really loud. His best friend Joni might be drifting away, his other best friend Tony might be dealing with ultra-religious parents, and his ex-boyfriend Kyle might not be going away anytime soon, but sometimes everything needs to fall apart before it can really fit together right.
---
20. The Haters by Jesse Andrews
From Jesse Andrews, author of the New York Times bestselling Me and Earl and the Dying Girl and screenwriter of the Sundance award–winning motion picture of the same name, comes a groundbreaking young adult novel about music, love, friendship, and freedom as three young musicians follow a quest to escape the law long enough to play the amazing show they hope (but also doubt) they have in them. Inspired by the years he spent playing bass in a band himself, The Haters is Jesse Andrews's road trip adventure about a trio of jazz-camp escapees who, against every realistic expectation, become a band. For Wes and his best friend, Corey, jazz camp turns out to be lame. It's pretty much all dudes talking in Jazz Voice. But then they jam with Ash, a charismatic girl with an unusual sound, and the three just click. It's three and a half hours of pure musical magic, and Ash makes a decision: They need to hit the road. Because the road, not summer camp, is where bands get good. Before Wes and Corey know it, they're in Ash's SUV heading south, and The Haters Summer of Hate Tour has begun.
---
21. The Thousandth Floor by Katharine McGee
WELCOME TO MANHATTAN, 2118. A hundred years in the future, New York is a city of innovation and dreams. Everyone there wants something…and everyone has something to lose. LEDA COLE's flawless exterior belies a secret addiction—to a drug she never should have tried and a boy she never should have touched. ERIS DODD-RADSON's beautiful, carefree life falls to pieces when a heartbreaking betrayal tears her family apart. RYLIN MYERS's job on one of the highest floors sweeps her into a world—and a romance—she never imagined…but will this new life cost Rylin her old one? WATT BAKRADI is a tech genius with a secret: he knows everything about everyone. But when he's hired to spy for an upper-floor girl, he finds himself caught up in a complicated web of lies.And living above everyone else on the thousandth floor is AVERY FULLER, the girl genetically designed to be perfect. The girl who seems to have it all—yet is tormented by the one thing she can never have.
---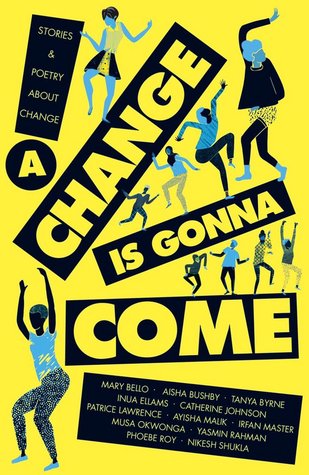 22. A Change Is Gonna Come by Various
Featuring top Young Adult authors alongside a host of exciting new talent, this anthology of stories and poetry from BAME writers on the theme of change is a long-overdue addition to the YA scene. Contributors include Tanya Byrne, Inua Ellams, Catherine Johnson, Patrice Lawrence, Ayisha Malik, Irfan Master, Musa Okwonga and Nikesh Shukla.
---
23. Seed by Lisa Heathfield
Fifteen-year-old Pearl has lived her whole life protected within the small community at Seed, where they worship Nature and idolise their leader, Papa S. When some outsiders arrive, everything changes. Pearl experiences feelings that she never knew existed and begins to realise that there is darkness at the heart of Seed. A darkness from which she must escape, before it's too late.
---
24. Thirteen by Tom Hoyle
Born at midnight in London, on the stroke of the new millennium, Adam is the target of a cult that believes boys born on this date must die before the end of their thirteenth year. Twelve boys have been killed so far. Coron, the crazy cult leader, will stop at nothing to bring in his new kingdom. And now he is planning a bombing spectacular across London to celebrate the sacrifice of his final victim: Adam
---
25. Hole in the Middle by Kendra Fortmeyer
How do you know who you are when part of you is missing? Morgan Stone was born with a hole in her middle: perfectly smooth patch of nothing where a something should be. After seventeen years of fear and shame, doctors and nurses, "peculiar" not "perfect," she has had enough of hiding. Feisty, feminist and downright different, Hole in the Middle is the story of what happens when a girl who is anything but normal confronts a world obsessed with body image and celebrity.
---
26. We're All Mad Here by Claire Eastham 
Anxiety is a crafty shapeshifter that can take on many forms: the tiger that sinks its claws in with physical symptoms and distressing thoughts, the cruel and belittling bully creating insecurity and self-doubt and, worst of all, the frenemy rewarding avoidance of social situations with no physical symptoms, no cruel thoughts… and no life beyond your sofa! This complete guide to beating social anxiety covers everything from school, university and work, through to surviving social media and making it through parties and dates (whilst actually enjoying them!) With honest insights about her own social anxiety and a healthy dose of humour, popular blogger Claire Eastham describes what social anxiety is, why it happens, and how you can lessen its effects with medication, lifestyle choices, talking therapies or even a hug from your favourite canine friend!
---
27. Not If I See You First by Eric Lindstrom
The Rules: Don't deceive me. Ever. Especially using my blindness. Especially in public. Don't help me unless I ask. Otherwise you're just getting in my way or bothering me. Don't be weird. Seriously, other than having my eyes closed all the time, I'm just like you only smarter. Parker Grant doesn't need 20/20 vision to see right through you. That's why she created the Rules: Don't treat her any differently just because she's blind, and never take advantage. There will be no second chances. Just ask Scott Kilpatrick, the boy who broke her heart. When Scott suddenly reappears in her life after being gone for years, Parker knows there's only one way to react – shun him so hard it hurts. She has enough on her mind already, like trying out for the track team (that's right, her eyes don't work but her legs still do), doling out tough-love advice to her painfully naive classmates, and giving herself gold stars for every day she hasn't cried since her dad's death three months ago. But avoiding her past quickly proves impossible, and the more Parker learns about what really happened – both with Scott, and her dad – the more she starts to question if things are always as they seem. Maybe, just maybe, some Rules are meant to be broken. 
---
28. Spontaneous by Aaron Starmer
A darkly funny and spectacularly original exploration of friendship, goodbyes—and spontaneous combustion. Mara Carlyle's senior year is going as normally as could be expected, until—wa-bam!—fellow senior Katelyn Ogden explodes during third period pre-calc. Katelyn is the first, but she won't be the last teenager to blow up without warning or explanation. As the seniors continue to pop like balloons and the national eye turns to Mara's suburban New Jersey hometown, the FBI rolls in and the search for a reason is on. Whip-smart and blunt, Mara narrates the end of their world as she knows it while trying to make it to graduation in one piece. It's an explosive year punctuated by romance, quarantine, lifelong friendship, hallucinogenic mushrooms, bloggers, ice cream trucks, "Snooze Button™," Bon Jovi, and the filthiest language you've ever heard from the President of the United States.
---
29. The Way Back Home by Allan Stratton 
Zoe Bird is going nowhere fast. She's angry and lonely, and her only true friend is her granny, whose Alzheimer's is worsening. When her parents put Granny in a home, Zoe decides now is the time to break free. She smuggles Granny out and together they hit the tracks on a cross-country trip to find Zoe's long-lost uncle. But there will be some home truths along the way… An emotional story about family, surviving school and being true to yourself for fans of The Art of Being Normal and Unbecoming.
---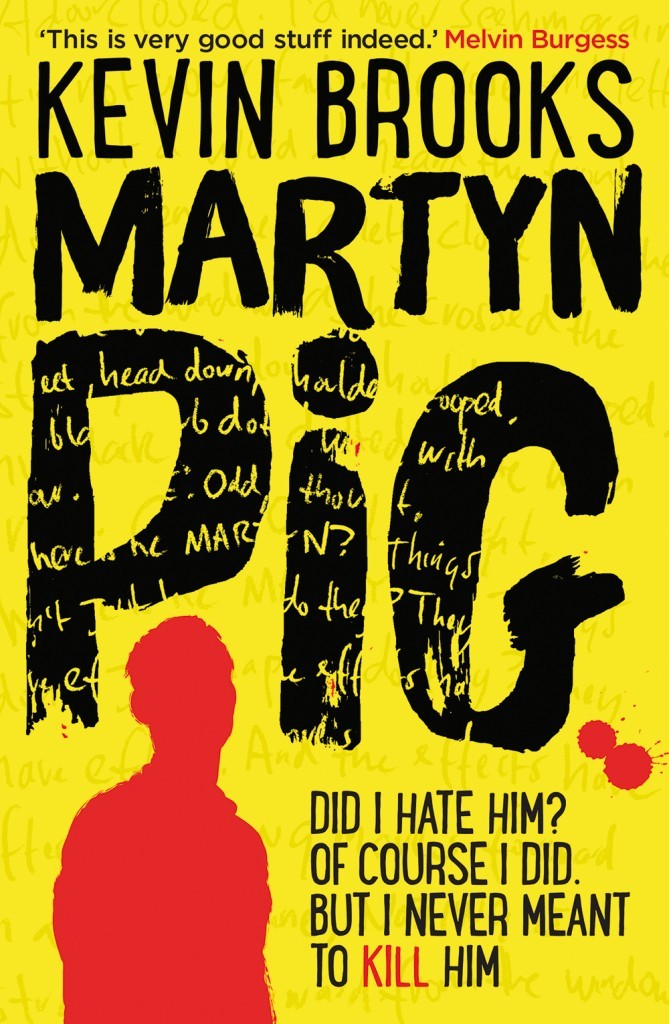 30. Martyn Pig by Kevin Brooks
A stunning debut by first time novelist Kevin Brooks, this riveting black comedy wowed readers and reviewers alike. Now in a dynamic new Kevin Brooks repackaging! Meet Martyn Pig. His name may be bad, but his life is worse. Martyn's life is miserable, and it always has been. His mother is gone. His father hates him. But at least things can't get any worse. Or so he thought. When his father dies in a sudden accident, Martyn realizes that for the first time in his life, he has a choice. Sure, he could report what happened – and move in with his horrible Aunty Jean. Or he could get rid of the body and move on with the rest of his life. So Martyn comes up with a foolproof plan to hide the body. Hey, what could go wrong?
---
Thank you so much for reading these recomendations, I hope you've found lots of new hidden gems! I'll be back again tomorrow with a list of green YA books, I hope to see you then.