I've started a mini blog series for 7 days, recommeding 30 YA books based on the colours of their covers. My previous posts are linked here:
Today's theme is GREEN books, I hope you're enjoying these posts and find some great, new books!
---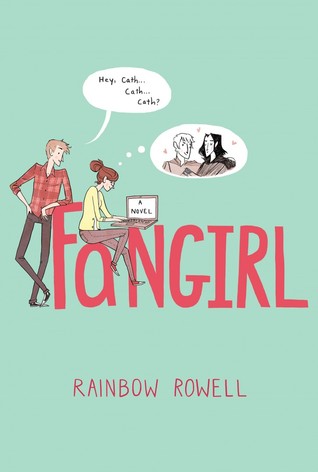 1. Fangirl by Rainbow Rowell
Cath is a Simon Snow fan. Okay, the whole world is a Simon Snow fan… But for Cath, being a fan is her life—and she's really good at it. She and her twin sister, Wren, ensconced themselves in the Simon Snow series when they were just kids; it's what got them through their mother leaving. Reading. Rereading. Hanging out in Simon Snow forums, writing Simon Snow fan fiction, dressing up like the characters for every movie premiere. Cath's sister has mostly grown away from fandom, but Cath can't let go. She doesn't want to. Now that they're going to college, Wren has told Cath she doesn't want to be roommates. Cath is on her own, completely outside of her comfort zone. She's got a surly roommate with a charming, always-around boyfriend, a fiction-writing professor who thinks fan fiction is the end of the civilized world, a handsome classmate who only wants to talk about words… And she can't stop worrying about her dad, who's loving and fragile and has never really been alone. For Cath, the question is: Can she do this? Can she make it without Wren holding her hand? Is she ready to start living her own life? Writing her own stories? And does she even want to move on if it means leaving Simon Snow behind?
---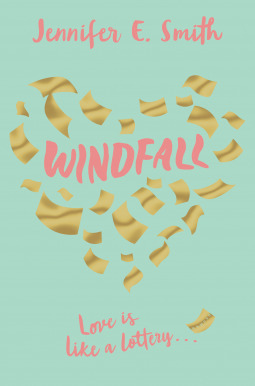 2. Windfall by Jennifer E. Smith
Alice doesn't believe in luck—at least, not the good kind. But she does believe in love, and for some time now, she's been pining for her best friend, Teddy. On his eighteenth birthday—just when it seems they might be on the brink of something—she buys him a lottery ticket on a lark. To their astonishment, he wins $140 million, and in an instant, everything changes. At first, it seems like a dream come true, especially since the two of them are no strangers to misfortune. As a kid, Alice won the worst kind of lottery possible when her parents died just over a year apart from each other. And Teddy's father abandoned his family not long after that, leaving them to grapple with his gambling debts. Through it all, Teddy and Alice have leaned on each other. But now, as they negotiate the ripple effects of Teddy's newfound wealth, a gulf opens between them. And soon, the money starts to feel like more of a curse than a windfall. As they try to find their way back to each other, Alice learns more about herself than she ever could have imagined…and about the unexpected ways in which luck and love sometimes intersect.
---
3. The One Memory of Flora Banks by Emily Barr
Seventeen-year-old Flora Banks has no short-term memory. Her mind resets itself several times a day, and has since the age of ten, when the tumor that was removed from Flora's brain took with it her ability to make new memories. That is, until she kisses Drake, her best friend's boyfriend, the night before he leaves town. Miraculously, this one memory breaks through Flora's fractured mind, and sticks. Flora is convinced that Drake is responsible for restoring her memory and making her whole again. So when an encouraging email from Drake suggests she meet him on the other side of the world, Flora knows with certainty that this is the first step toward reclaiming her life. With little more than the words "be brave" inked into her skin, and written reminders of who she is and why her memory is so limited, Flora sets off on an impossible journey to Svalbard, Norway, the land of the midnight sun, determined to find Drake. But from the moment she arrives in the arctic, nothing is quite as it seems, and Flora must "be brave" if she is ever to learn the truth about herself, and to make it safely home.
---
4. Silence Is Goldfish by Annabel Pitcher
'I have a voice but it isn't mine. It used to say things so I'd fit in – to please my parents, to please my teachers. It used to tell the universe I was something I wasn't. It lied.' Fifteen-year-old Tess doesn't mean to become mute. At first, she's just too shocked to speak. And who wouldn't be? Discovering your whole life has been a lie because your dad isn't your real father is a pretty big deal. Tess sets out to find the truth of her identity, and uncovers a secret that could ruin multiple lives. But can she ask for help when she's forgotten how to use her voice?
---
5. Beautiful Broken Things by Sara Barnard 
Best friends Caddy and Rosie are inseparable. Their differences have brought them closer, but as she turns sixteen Caddy begins to wish she could be a bit more like Rosie – confident, funny and interesting. Then Suzanne comes into their lives: beautiful, damaged, exciting and mysterious, and things get a whole lot more complicated. As Suzanne's past is revealed and her present begins to unravel, Caddy begins to see how much fun a little trouble can be. But the course of both friendship and recovery is rougher than either girl realises, and Caddy is about to learn that downward spirals have a momentum of their own.
---
6. Paper Butterflies by Lisa Heathfield
June's life at home with her stepmother and stepsister is a dark one—and a secret one. She is trapped like a butterfly in a net. But then June meets Blister, a boy in the woods. In him she recognises the tiniest glimmer of hope that perhaps she can find a way to fly far, far away from her home and be free. Because every creature in this world deserves their freedom… But at what price?
---
7. Delerium by Lauren Oliver
In an alternate United States, love has been declared a dangerous disease, and the government forces everyone who reaches eighteen to have a procedure called the Cure. Living with her aunt, uncle, and cousins in Portland, Maine, Lena Haloway is very much looking forward to being cured and living a safe, predictable life. She watched love destroy her mother and isn't about to make the same mistake. But with ninety-five days left until her treatment, Lena meets enigmatic Alex, a boy from the "Wilds" who lives under the government's radar. What will happen if they do the unthinkable and fall in love?
---
8. The Haunting by Alex Bell
Some curses grow stronger with time… People say that all Cornish inns are haunted, but the Waterwitch's history is particularly chilling. Built from the salvaged timber of a cursed ship, the guest house's dark secrets go further back than anyone can remember. Emma is permanently confined to a wheelchair after an accident at the Waterwitch which took place when she was ten. Seven years later, she decides to return to the place where the awful event occurred. But the ancient inn still has its ghosts, and one particular spirit is more vengeful than ever…
---
9. Think Twice by Sarah Mlynowski
What's worse than having telepathy in high school? Having telepathy in high school, and then losing it. When class 10B got their flu shots and developed the unexpected side effect of telepathy, it seemed like the worse thing ever. But two years later, they've got used to their powers. They've even come to like them. And as they prepare to leave school, they're all making exciting plans – plans that involve them being Espies. So when one by one they suddenly begin to lose their powers, they know they can't let it happen. Can they save their telepathy before it's too late? Or will they have to learn how to survive without them once again?
---
10. Survivor by Tom Hoyle
When the first person on the Ultimate Bushcraft adventure holiday mysteriously dies, it's a tragedy. But when the second, and third die …it's no longer mysterious: it's suspicious. Who can you trust when everyone left alive is a suspect? Who is the murderer? As the numbers dwindle, the chances of survival plummet …Staying alive has never seemed so guilty. Perfect for fans of Michael Grant. 
---
11. Radio Silence by Alice Oseman 
What if everything you set yourself up to be was wrong? Frances has always been a study machine with one goal, elite university. Nothing will stand in her way; not friends, not a guilty secret – not even the person she is on the inside. But when Frances meets Aled, the shy genius behind her favourite podcast, she discovers a new freedom. He unlocks the door to Real Frances and for the first time she experiences true friendship, unafraid to be herself. Then the podcast goes viral and the fragile trust between them is broken. Caught between who she was and who she longs to be, Frances' dreams come crashing down. Suffocating with guilt, she knows that she has to confront her past… She has to confess why Carys disappeared…Meanwhile at uni, Aled is alone, fighting even darker secrets. It's only by facing up to your fears that you can overcome them. And it's only by being your true self that you can find happiness. Frances is going to need every bit of courage she has.
---
12. Storms by Chris Vick
A thrilling and tempestuous novel of love and danger from the author of KOOK. Every storm breaks in the end… Jake never meant to fall for a girl that night. But plans change and soon Jake and Hannah are together, inseparable. That is, until Hannah gets an opportunity that will take her away, where Jake could never afford to follow. Then the storm comes, bringing with it an extraordinary discovery, something that could turn Jake's life around. But the gifts of the sea can be cursed, and the great wave that is forming may break Jake and Hannah's world – and their hearts…
---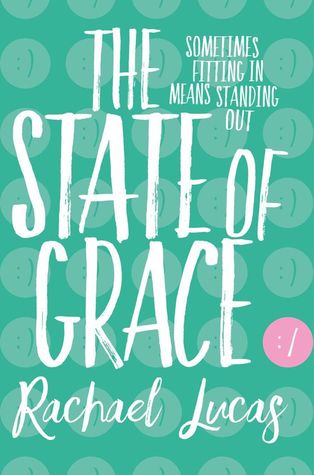 13. The State of Grace by Rachael Lucas
Sometimes I feel like everyone else was handed a copy of the rules for life and mine got lost. Grace has Asperger's and her own way of looking at the world. She's got a horse and a best friend who understand her, and that's pretty much all she needs. But when Grace kisses Gabe and things start to change at home, the world doesn't make much sense to her any more. Suddenly everything threatens to fall apart, and it's up to Grace to fix it on her own.
---
14. Lydia by Natasha Farrant
A spirited, witty and fresh reimagining of Jane Austen's 'Pride and Prejudice'! Lydia is the youngest Bennet sister and she's sick of country life – instead of sewing and reading, she longs for adventure. When a red-coated garrison arrives in Merryton, Lydia's life turns upside down. As she falls for dashing Wickham, she's swept into a whirlwind social circle and deposited in a seaside town, Brighton. Sea-bathing, promenades and scandal await – and a pair of intriguing twins. Can Lydia find out what she really wants – and can she get it?
---
15. The Statistical Probability of Love at First Sight by Jennifer E. Smith
Who would have guessed that four minutes could change everything? Today should be one of the worst days of seventeen-year-old Hadley Sullivan's life. Having missed her flight, she's stuck at JFK airport and late to her father's second wedding, which is taking place in London and involves a soon-to-be stepmother Hadley's never even met. Then she meets the perfect boy in the airport's cramped waiting area. His name is Oliver, he's British, and he's sitting in her row. A long night on the plane passes in the blink of an eye, and Hadley and Oliver lose track of each other in the airport chaos upon arrival. Can fate intervene to bring them together once more? Quirks of timing play out in this romantic and cinematic novel about family connections, second chances, and first loves. Set over a twenty-four-hour-period, Hadley and Oliver's story will make you believe that true love finds you when you're least expecting it.
---
16. Lobsters by Lucy Ivison
Sam and Hannah only have the holidays to find 'The One'. Their lobster. But instead of being epic, their summer is looking awkward. They must navigate social misunderstandings, the plotting of well-meaning friends, and their own fears of being virgins for ever to find happiness. But fate is at work to bring them together. And in the end, it all boils down to love.
---
17. Seven Days by Eve Ainsworth
This bold, compelling and topical story about bullying is told from the perspective of the bully and the bullied. You won't be able put it down until you've reached the conclusion. Jess's life is difficult enough without Kez picking on her – it's turning school from a safe place into a nightmare. Kez has plenty of problems too but she finds comfort in knowing she is better off than Jess – or so she thinks. A hard-hitting and even-handed look at bullying and the issues facing teenagers today.
---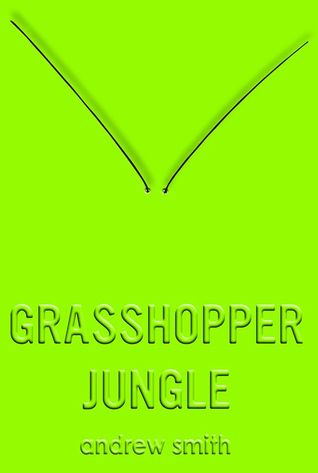 18. Grasshopper Jungle by Andrew Smith
Sixteen-year-old Austin Szerba interweaves the story of his Polish legacy with the story of how he and his best friend , Robby, brought about the end of humanity and the rise of an army of unstoppable, six-foot tall praying mantises in small-town Iowa.
To make matters worse, Austin's hormones are totally oblivious; they don't care that the world is in utter chaos: Austin is in love with his girlfriend, Shann, but remains confused about his sexual orientation. He's stewing in a self-professed constant state of maximum horniness, directed at both Robby and Shann. Ultimately, it's up to Austin to save the world and propagate the species in this sci-fright journey of survival, sex, and the complex realities of the human condition.
---
19. Moth Girls by Anne Cassidy
Helplessly drawn like moths to the light, two girls go missing in an evocative and gripping tale… They called them the Moth Girls because they were attracted to the house. They were drawn to it. Or at least that is what is written in the newspapers that Mandy reads on the anniversary of when her two best friends went missing. Five years have passed since Petra and Tina were determined to explore the dilapidated house on Princess Street. But what started off as a dare ended with the two girls vanishing. As Mandy's memories of the disappearance of her two friends are ignited once again, disturbing details will resurface in her mind.
---
20. Paperweight by Meg Haston
Seventeen-year-old Stevie is trapped. In her life. And now in an eating-disorder treatment center on the dusty outskirts of the New Mexico desert. Life in the center is regimented and intrusive, a nightmare come true. Nurses and therapists watch Stevie at mealtime, accompany her to the bathroom, and challenge her to eat the foods she's worked so hard to avoid. Her dad has signed her up for sixty days of treatment. But what no one knows is that Stevie doesn't plan to stay that long. There are only twenty-seven days until the anniversary of her brother Josh's death—the death she caused. And if Stevie gets her way, there are only twenty-seven days until she too will end her life.
---
21. Signs Point to Yes by Sandy Hall
If only Jane's Magic 8 Ball could tell her how to get through the summer. With her "perfect" sister, Margo, home for her "perfect" internship, Jane is not going to be able to spend the summer writing fan fiction, as she had planned. And her emergency babysitting job requires Jane to spend the whole summer in awkward proximity to her new crush, Teo, a nerdy-hot lifeguard with problems of his own. With his best friend out of town, Teo finds himself without anyone to confide in…except Jane. Will Jane and Teo be able to salvage each other's summer? Even the Magic 8 Ball doesn't have an answer…but signs point to yes.
---
22. The Bubble Wrap Boy by Phil Earle
Charlie Han's troubles are way bigger than he is. At school, he's branded an outsider, a loser – the tiny kid from the Chinese Chippy. His only ally is Sinus Sedgely, the only lad in school with a worse reputation than Charlie himself. Life at home isn't much better. His dad is better with a wok than he is with words, and his mum is suffocating the life out of Charlie, wrapping him in enough cotton wool to fill a pharmacy. But when a new passion leads Charlie to the mother of all confrontations, he finds his mum's been hiding a massive secret. A secret that whilst shocking, might actually lead Charlie to feeling ten feet tall. The Bubble Wrap Boy is about the terrors of friendship, family and one undersized boy's ability to think BIG…
---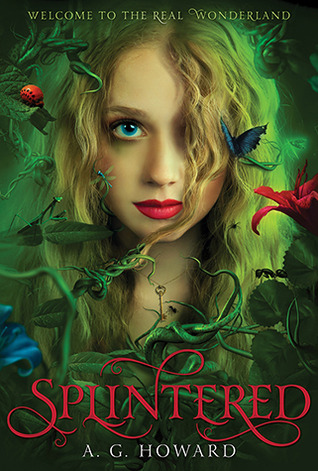 23. Splinted by A.G. Howard
Alyssa Gardner hears the whispers of bugs and flowers—precisely the affliction that landed her mother in a mental hospital years before. This family curse stretches back to her ancestor Alice Liddell, the real-life inspiration for Lewis Carroll's Alice's Adventures in Wonderland. Alyssa might be crazy, but she manages to keep it together. For now. When her mother's mental health takes a turn for the worse, Alyssa learns that what she thought was fiction is based in terrifying reality. The real Wonderland is a place far darker and more twisted than Lewis Carroll ever let on. There, Alyssa must pass a series of tests, including draining an ocean of Alice's tears, waking the slumbering tea party, and subduing a vicious bandersnatch, to fix Alice's mistakes and save her family. She must also decide whom to trust: Jeb, her gorgeous best friend and secret crush, or the sexy but suspicious Morpheus, her guide through Wonderland, who may have dark motives of his own.
---
24. In Search of Livi Starling by Karen Rosario Ingerslev
Despite her best efforts, Livi Starling will probably never make the history books. Her life is far too ordinary. Unless you count her talent for animal noises, her inability to tell the truth, her insatiable desire for a mother, or the fact that her only friend is a painfully shy Jesus-Freak who collects banana stickers. Having been brought up in the sleepy countryside by her older sister, Livi is endlessly curious about the great life she could have had and takes no time in reinventing herself upon their arrival in a new city. However, her quest for greatness is about to be disrupted by two small things: Her father is just around the corner. She is not who she thinks she is.
---
25. Kid Got Shot by Simon Mason
Meet Garvie Smith. Reprobate, genius, waster, and sometime detective. Right in the middle of revision hell – until now. A boy from Marsh Academy has been shot, with no clear motive and no clues. Disgraced DI Singh is on the case, and he's determined to keep Garvie away. But Garvie knows he's the only one who has any idea where to look for the answers. Starting with his best friend's girlfriend. And it's going to take more than pointless revision or flunking his exams to stop him getting involved. Exams. What exams?
---
26. The Undrowned Child by Michelle Lovric
Teodora has always longed to visit Venice. And at last she has her chance. But strange and sinister things are afoot in the beautiful floating city. Teo is quickly subsumed into a secret world in which salty-tongued mermaids run subversive printing presses, ghosts good and bad patrol the streets, statues speak, rats read and librarians turn fluidly into cats. And where a book, The Key to the Secret City, leads Teo straight into the heart of the danger that threatens to destroy the city to which she feels she belongs. An ancient proverb seems to unite Teo with a Venetian boy, Renzo, and with the Traitor who has returned from the dark past to wreak revenge…. But who is the undrowned child destined to save Venice?
---
27. Flour Babies by Anne Fine
Let it be flour babies. Let chaos reign. When the annual school science fair comes round, Mr Cartwright's class don't get to work on the Soap Factory, the Maggot Farm or the Exploding Custard Tins. To their intense disgust they get the Flour Babies – sweet little six-pound bags of flour that must be cared for at all times.
---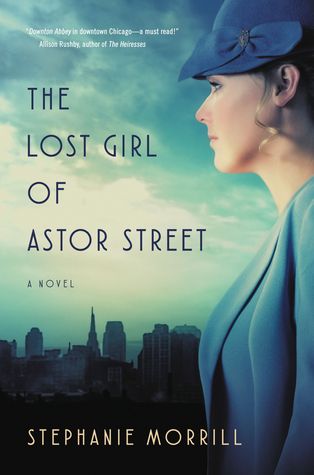 28. The Lost Girl of Astor Street by Stephanie Morrill
Lydia has vanished. Lydia, who's never broken any rules, except falling in love with the wrong boy. Lydia, who's been Piper's best friend since they were children. Lydia, who never even said good-bye. Convinced the police are looking in all the wrong places, eighteen-year-old Piper Sail begins her own investigation in an attempt to solve the mystery of Lydia's disappearance. With the reluctant help of a handsome young detective, Piper goes searching for answers in the dark underbelly of 1924 Chicago, determined to find Lydia at any cost. When Piper discovers those answers might stem from the corruption strangling the city—and quite possibly lead back to the doors of her affluent neighborhood—she must decide how deep she's willing to dig, how much she should reveal, and if she's willing to risk her life of privilege for the sake of the truth.
---
29. What I Was by Meg Rosoff
An unusual coming-of-age story that examines the fluidity of identity and the ways in which people consciously redefine themselves in the face of love. In the not too distant future, a one-hundred-year-old man called H sails the eastern coast of England with his godson. H recalls when he himself was sixteen—his godson's age—as they search for the site of H's life-altering friendship with a boy named Finn. Finn lives alone on an isolated slip of land and follows no rules: he spends his days swimming, fishing, and collecting driftwood for his tiny beach hut. H, on the other hand, is an upper-class boarding school boy stifled by monotony and endless rules. They meet by chance on the beach, and H is immediately awed by (and jealous of) Finn's way of life. They strike up an unlikely friendship but the gap between their lives becomes difficult to bridge, and before long the idyll that nurtured their relationship is shattered by heart-wrenching scandal.  Meg Rosoff was formerly a YA author, but her work transcends categorization and we are delighted to bring it to adult readers for the first time. What I Was is a timeless, enthralling story destined to become a classic.
---
30. Memoirs of a Teenage Amnesiac by Gabrielle Zevin
If Naomi had picked tails, she would have won the coin toss. She wouldn't have had to go back for the yearbook camera, and she wouldn't have hit her head on the steps. She wouldn't have woken up in an ambulance with amnesia. She certainly would have remembered her boyfriend, Ace. She might even have remembered why she fell in love with him in the first place. She would understand why her best friend, Will, keeps calling her "Chief." She'd know about her mom's new family. She'd know about her dad's fiancée. She never would have met James, the boy with the questionable past and the even fuzzier future, who tells her he once wanted to kiss her. She wouldn't have wanted to kiss him back. But Naomi picked heads. After her remarkable debut, Gabrielle Zevin has crafted an imaginative second novel all about love and second chances.
---
Thank you for reading this post. Tomorrow I'll be bringing you my blue YA recommendations, have a lovely Sunday!