Today 's the fifth day of my mini series on my blog. I've linked all the other days below, so please check them out if you haven't already:
Today's theme is BLUE books, I hope you enjoy reading about all these wonderful books.
---
1. The Summer of Us by Cecilia Vinesse
Aubrey and Rae have been planning their trip around Europe practically from the moment they became BFFs in primary school. And, now, it ought to be the perfect way to spend their last summer together before university. But things are more complicated at eighteen than they were at ten. There's Jonah, Aubrey's seemingly perfect boyfriend, and his best friend Gabe, the boy Aubrey may have accidentally kissed. And there's Clara, the friend Rae is crushing on, hard, even though there's no hope because Clara is definitely into guys, not girls. Five friends. Ten days. Paris, Amsterdam, Prague, Florence, Barcelona. And a messy, complicated, can-this-really-be happening love story, or two … because how could there not be?
---
2. Blubber by Judy Blume
Blubber is a good name for her, the note from Wendy says about Linda. Jill crumples it up and leaves it on the corner of her desk. She doesn't want to think about Linda or her dumb report on the whale just now. Jill wants to think about Halloween. But Robby grabs the note, and before Linda stops talking it has gone halfway around the room. That's where it all starts. There's something about Linda that makes a lot of kids in her fifth-grade class want to see how far they can go — but nobody, least of all Jill, expects the fun to end where it does.
---
3. Tender by Eve Ainsworth
Touching on mental health, family, friendship and the pressures that teenage carers face, as author Cat Clarke says, TENDER is "a compassionate, compelling and unflinching novel". Marty and Daisy spend their lives pretending. Marty pretends his mum's grip on reality isn't slipping by the day. Daisy pretends her parents aren't exhausting themselves while they look after her incurably ill brother. They both pretend they're fine. But the thing about pretending is, at some point, it has to stop. And then what?
---
4. A Monster Calls by Patrick Ness
An unflinching, darkly funny, and deeply moving story of a boy, his seriously ill mother, and an unexpected monstrous visitor. At seven minutes past midnight, thirteen-year-old Conor wakes to find a monster outside his bedroom window. But it isn't the monster Conor's been expecting – he's been expecting the one from his nightmare, the nightmare he's had nearly every night since his mother started her treatments. The monster in his backyard is different. It's ancient. And wild. And it wants something from Conor. Something terrible and dangerous. It wants the truth. From the final idea of award-winning author Siobhan Dowd – whose premature death from cancer prevented her from writing it herself – Patrick Ness has spun a haunting and darkly funny novel of mischief, loss, and monsters both real and imagined.
---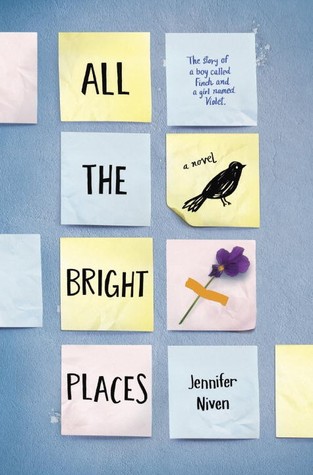 5. All The Bright Places by Jennifer Niven
Theodore Finch is fascinated by death, and he constantly thinks of ways he might kill himself. But each time, something good, no matter how small, stops him. Violet Markey lives for the future, counting the days until graduation, when she can escape her Indiana town and her aching grief in the wake of her sister's recent death. When Finch and Violet meet on the ledge of the bell tower at school, it's unclear who saves whom. And when they pair up on a project to discover the "natural wonders" of their state, both Finch and Violet make more important discoveries: It's only with Violet that Finch can be himself—a weird, funny, live-out-loud guy who's not such a freak after all. And it's only with Finch that Violet can forget to count away the days and start living them. But as Violet's world grows, Finch's begins to shrink.
---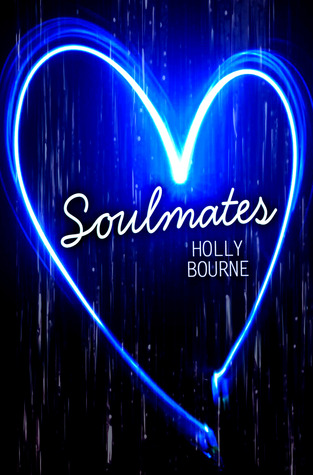 6. Soulmates by Holly Bourne
Every so often, two people are born who are the perfect matches for each other. Soulmates. But while the odds of this happening are about as likely as being struck by lightning, when these people do meet and fall in love…thunderstorms, lightning strikes and lashings of rain are only the beginning of their problems. Enter Poppy, the 17-year-old cynic with a serious addiction to banana milk, and Noah, the heart-throb guitarist; residents of mediocre Middletown, sometime students, and…soulmates. After a chance meeting at a local band night, Poppy and Noah find themselves swept up in a whirlwind romance unlike anything they've ever experienced before. But with a secret international agency preparing to separate them, a trail of destruction rumbling in their wake, (and a looming psychology coursework deadline), they are left with an impossible choice between the end of the world, or a life without love…
---
7. Chasing the Stars by Malorie Blackman
Olivia and her twin brother Aidan are heading alone back to Earth following the virus that wiped out the rest of their crew, and their family, in its entirety. Nathan is part of a community heading in the opposite direction. But on their journey, Nathan's ship is attacked and most of the community killed. Only a few survive. Their lives unexpectedly collided, Nathan and Olivia are instantly attracted to each other, deeply, head-over-heels – like nothing they have ever experienced. But not everyone is pleased. Surrounded by rumours, deception, even murder, is it possible to live out a happy ever after?
---
8. Carry On by Rainbow Rowell
Simon Snow is the worst Chosen One who's ever been chosen. That's what his roommate, Baz, says. And Baz might be evil and a vampire and a complete git, but he's probably right. Half the time, Simon can't even make his wand work, and the other half, he starts something on fire. His mentor's avoiding him, his girlfriend broke up with him, and there's a magic-eating monster running around, wearing Simon's face. Baz would be having a field day with all this, if he were here — it's their last year at the Watford School of Magicks, and Simon's infuriating nemesis didn't even bother to show up.
---
9. The Hazel Wood by Melissa Albert
Seventeen-year-old Alice and her mother have spent most of Alice's life on the road, always a step ahead of the uncanny bad luck biting at their heels. But when Alice's grandmother, the reclusive author of a cult-classic book of pitch-dark fairy tales, dies alone on her estate, the Hazel Wood, Alice learns how bad her luck can really get: her mother is stolen away―by a figure who claims to come from the Hinterland, the cruel supernatural world where her grandmother's stories are set. Alice's only lead is the message her mother left behind: "Stay away from the Hazel Wood." Alice has long steered clear of her grandmother's cultish fans. But now she has no choice but to ally with classmate Ellery Finch, a Hinterland superfan who may have his own reasons for wanting to help her. To retrieve her mother, Alice must venture first to the Hazel Wood, then into the world where her grandmother's tales began―and where she might find out how her own story went so wrong. 
---
10. The List of Real Things by Sarah Moore Fitzgerald
Grace knows the difference between what's real and the strange ideas that float around in her little sister's mind. Their parents died – that's real. A secret hotel on the cliff-top where their parents are waiting – definitely NOT real. So when grief strikes again, Grace is determined not to let her sister's outlandish imagination spiral out of control. But the line between truth and fantasy is more complicated than it seems…
---
11. The Unpredictability of Being Human by Linna Ingemundsen
Meet Malin, a fifteen-year-old who sees the world differently. Malin knows she couldn't change much about her life, even if she got to play God. Her dad would still yell all the time – especially as Malin is still friends with Hanna, the girl she met shoplifting. Her mum would still say a glass of wine is good for her heart – and Mum needs it, with Malin's brother, Sigve, getting into trouble all the time. And Malin would still be Malin. Because she can't be anybody else. In a voice bursting with immediacy and truth, Malin shares the absurdities of growing up and fitting in as her family struggles with the buried pain of mistakes made and secrets kept. Profound, compassionate and as funny as it is dark, Malin's story is an offbeat examination and celebration of the brutal, bizarre and beautiful unpredictability of being human.
---
12. How To Write A Love Story by Katy Cannon
Tilly Frost has grown up reading her grandmother's bestselling romance novels – so when the one and only Beatrix Frost is taken ill, Tilly finishes writing her latest work. Then Tilly agrees to start the next book. But what is her gran hiding from her? And how can Tilly write a heart-pounding romance when she's never been in love? Can she turn her school crush into something more? One thing Tilly should know is that the course of true love never did run smooth…
---
13. The Upside of Unirequited by Becky Albertalli
Seventeen-year-old Molly Peskin-Suso knows all about unrequited love—she's lived through it twenty-six times. She crushes hard and crushes often, but always in secret. Because no matter how many times her twin sister, Cassie, tells her to woman up, Molly can't stomach the idea of rejection. So she's careful. Fat girls always have to be careful. Then a cute new girl enters Cassie's orbit, and for the first time ever, Molly's cynical twin is a lovesick mess. Meanwhile, Molly's totally not dying of loneliness—except for the part where she is. Luckily, Cassie's new girlfriend comes with a cute hipster-boy sidekick. Will is funny and flirtatious and just might be perfect crush material. Maybe more than crush material. And if Molly can win him over, she'll get her first kiss and she'll get her twin back. There's only one problem: Molly's coworker Reid. He's an awkward Tolkien superfan with a season pass to the Ren Faire, and there's absolutely no way Molly could fall for him. Right?
---
14. The Taste of Blue Light by Lydia Ruffles
An incandescent, soul-searching story about a broken young woman's search for a truth buried so deep it threatens to consume her, body and mind. 'Since I blacked out, the slightest thing seems to aggravate my brain and fill it with fire'. These are the things Lux knows: She is an Artist. She is lucky. She is broken. These are the things she doesn't know: What happened over the summer. Why she ended up in hospital. Why her memories are etched in red. 'The nightmares tend to linger long after your screams have woken you up …' Desperate to uncover the truth, Lux's time is running out. If she cannot piece together the events of the summer and regain control of her fractured mind, she will be taken away from everything and everyone she holds dear. If her dreams don't swallow her first.
---
15. Model Under Cover by Carina Axelsson
Axelle Anderson doesn't care about fashion, in spite of her pushy fashionista aunt, Venetia. All Axelle wants to do in life is solve mysteries. But when top fashion designer Belle La Lune goes missing and Aunt Venetia becomes a prime suspect, Axelle must go undercover as a model to bring the truth into the spotlight.
---
16. Boy 87 By Ele Fountain 
Shif is just an ordinary schoolboy who loves chess and playing with his best friend. But, one day, he is forced to leave home to avoid conscription into the army. He embarks on an epic journey, in which he encounters dangers and cruelties – and great acts of human kindness – as he bravely makes his way to a future he can only imagine. Told in the powerful first person, this startling debut novel will encourage understanding and empathy in young readers, and allow the news headlines of the day to resonate with the humanity involved in creating them.
---
17. Optimists Die First by Susin Nielsen
Sixteen-year-old Petula De Wilde is anything but wild. A family tragedy has made her shut herself off from the world. Once a crafting fiend with a happy life, Petula now sees danger in everything, from airplanes to ground beef. The worst part of her week is her comically lame mandatory art therapy class. She has nothing in common with this small band of teenage misfits, except that they all carry their own burden of guilt. When Jacob joins their ranks, he seems so normal and confident. Petula wants nothing to do with him, or his prosthetic arm. But when they're forced to collaborate on a unique school project, she slowly opens up, and he inspires her to face her fears. Until a hidden truth threatens to derail everything.
---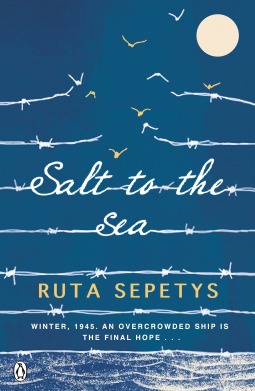 18. Salt to the Sea by Ruta Sepetys
World War II is drawing to a close in East Prussia and thousands of refugees are on a desperate trek toward freedom, many with something to hide. Among them are Joana, Emilia, and Florian, whose paths converge en route to the ship that promises salvation, the Wilhelm Gustloff. Forced by circumstance to unite, the three find their strength, courage, and trust in each other tested with each step closer to safety. Just when it seems freedom is within their grasp, tragedy strikes. Not country, nor culture, nor status matter as all ten thousand people—adults and children alike—aboard must fight for the same thing: survival.
---
19. History Is All You Left Me by Adam Silvera
When Griffin's first love and ex-boyfriend, Theo, dies in a drowning accident, his universe implodes. Even though Theo had moved to California for college and started seeing Jackson, Griffin never doubted Theo would come back to him when the time was right. But now, the future he's been imagining for himself has gone far off course. To make things worse, the only person who truly understands his heartache is Jackson. But no matter how much they open up to each other, Griffin's downward spiral continues. He's losing himself in his obsessive compulsions and destructive choices, and the secrets he's been keeping are tearing him apart. If Griffin is ever to rebuild his future, he must first confront his history, every last heartbreaking piece in the puzzle of his life.
---
20. Hour of The Bees by Lindsay Eagar
While her friends are spending their summers having pool parties and sleepovers, twelve-year-old Carolina — Carol — is spending hers in the middle of the New Mexico desert, helping her parents move the grandfather she's never met into a home for people with dementia. At first, Carol avoids prickly Grandpa Serge. But as the summer wears on and the heat bears down, Carol finds herself drawn to him, fascinated by the crazy stories he tells her about a healing tree, a green-glass lake, and the bees that will bring back the rain and end a hundred years of drought. As the thin line between magic and reality starts to blur, Carol must decide for herself what is possible — and what it means to be true to her roots. Readers who dream that there's something more out there will be enchanted by this captivating novel of family, renewal, and discovering the wonder of the world.
---
21. Then by Morris Gleitzman
In Then – Morris Gleitzman's heartbreaking children's novel set during the Nazi occupation of Poland during the Second World War – Jewish orphan Felix and his best friend Zelda have been captured and are on the way to a concentration camp, unless they manage to escape… A little hope goes a long way. I had a plan for me and Zelda. Pretend to be someone else. Find new parents, be safe forever. Then the Nazis came. My name is Felix. This is my story.
---
22. Frozen Charlotte by Alex Bell
We're waiting for you to come and play. Dunvegan School for Girls has been closed for many years. Converted into a family home, the teachers and students are long gone. But they left something behind…Sophie arrives at the old schoolhouse to spend the summer with her cousins. Brooding Cameron with his scarred hand, strange Lilias with a fear of bones and Piper, who seems just a bit too good to be true. And then there's her other cousin. The girl with a room full of antique dolls. The girl that shouldn't be there. The girl that died.
---
23. The Ones That Disappeared by Zana Fraillon
Kept by a ruthless gang, three children manage to escape from slavery. But freedom isn't just waiting on the outside. Separated, scared and looking after a small child, Esra will do whatever she can to reunite with her friend Miran, who was captured by the police – the police who she mustn't trust. Hiding in the shadows of the forest, Esra is found by a local boy, a boy with his own story. Together they will create a man out of mud. A man who will come to life and lead them through a dark labyrinth of tunnels until they finally have the courage the step above ground. Until they finally have the courage to speak their story. Until they finally have the courage to be free. 
---
24. Noah Can't Even by Simon James
Poor Noah Grimes! His father disappeared years ago, his mother's Beyonce tribute act is an unacceptable embarrassment, and his beloved gran is no longer herself. He only has one friend, Harry, and school is…Well, it's pure HELL. Why can't Noah be normal, like everyone else at school? Maybe if he struck up a romantic relationship with someone – maybe Sophie, who is perfect and lovely – he'd be seen in a different light? But Noah's plans are derailed when Harry kisses him at a party. That's when things go from bad to utter chaos.
---
25. Theatrical by Maggie Harcourt
Hope dreams of working backstage in a theatre, and she's determined to make it without the help of her famous costume designer mum. So when she lands an internship on a major production, she tells no one. But with a stroppy Hollywood star and his hot young understudy upstaging Hope's focus, she's soon struggling to keep her cool… and her secret. 
---
26. I Have No Secrets by Penny Joelson
Jemma knows who did the murder. She knows because he told her. And she can't tell anyone. Fourteen-year-old Jemma has severe cerebral palsy. Unable to communicate or move, she relies on her family and carer for everything. She has a sharp brain and inquisitive nature, and knows all sorts of things about everyone. But when she is confronted with this terrible secret, she is utterly powerless to do anything. Though that might be about to change…
---
27. Alex, Approximately by Jenn Bennett
Classic movie fan Bailey "Mink" Rydell has spent months crushing on a witty film geek she only knows online as Alex. Two coasts separate the teens until Bailey moves in with her dad, who lives in the same California surfing town as her online crush. Faced with doubts (what if he's a creep in real life—or worse?), Bailey doesn't tell Alex she's moved to his hometown. Or that she's landed a job at the local tourist-trap museum. Or that she's being heckled daily by the irritatingly hot museum security guard, Porter Roth—a.k.a. her new archnemesis. But life is a whole lot messier than the movies, especially when Bailey discovers that tricky fine line between hate, love, and whatever it is she's starting to feel for Porter. And as the summer months go by, Bailey must choose whether to cling to a dreamy online fantasy in Alex or take a risk on an imperfect reality with Porter. The choice is both simpler and more complicated than she realizes, because Porter Roth is hiding a secret of his own: Porter is Alex…Approximately.
---
28. Made You Up Francesca Zappia
Alex fights a daily battle to figure out the difference between reality and delusion. Armed with a take-no-prisoners attitude, her camera, a Magic 8-Ball, and her only ally (her little sister), Alex wages a war against her schizophrenia, determined to stay sane long enough to get into college. She's pretty optimistic about her chances until classes begin, and she runs into Miles. Didn't she imagine him? Before she knows it, Alex is making friends, going to parties, falling in love, and experiencing all the usual rites of passage for teenagers. But Alex is used to being crazy. She's not prepared for normal. 
---
29. Letters to the Lost by Brigid Kemmerer
Juliet Young always writes letters to her mother, a world-traveling photojournalist. Even after her mother's death, she leaves letters at her grave. It's the only way Juliet can cope. Declan Murphy isn't the sort of guy you want to cross. In the midst of his court-ordered community service at the local cemetery, he's trying to escape the demons of his past. When Declan reads a haunting letter left beside a grave, he can't resist writing back. Soon, he's opening up to a perfect stranger, and their connection is immediate. But neither Declan nor Juliet knows that they're not actually strangers. When life at school interferes with their secret life of letters, sparks will fly as Juliet and Declan discover truths that might tear them apart.
---
30. If I Was Your Girl by Meredith Russo
A new kind of big-hearted novel about being seen for who you really are. Amanda Hardy is the new girl in school. Like anyone else, all she wants is to make friends and fit in. But Amanda is keeping a secret, and she's determined not to get too close to anyone. But when she meets sweet, easygoing Grant, Amanda can't help but start to let him into her life. As they spend more time together, she realizes just how much she is losing by guarding her heart. She finds herself yearning to share with Grant everything about herself, including her past. But Amanda's terrified that once she tells him the truth, he won't be able to see past it. Because the secret that Amanda's been keeping? It's that at her old school, she used to be Andrew. Will the truth cost Amanda her new life, and her new love? 
---
I hope you enjoyed these blue recommendations! Tomorrow's post will be focusing on purple YA books! Love, Karis